Differential Diagnosis of Developmental Coordination Disorder
How do you know if it is DCD and not another similar diagnosis? Knowing your client's real diagnosis can help you provide the most effective interventions. In this course, attendees will learn a strategy and decision-making algorithms to decide whether a client has Developmental Coordination Disorder (DCD) or another related condition or impairment, such as ADHD, Sensory Processing Disorder (SPD), Joint Hypermobility, or just simply clumsy. She will utilize case studies to demonstrate the clinical reasoning process to determine the right diagnosis and provision of the appropriate intervention approaches.
Closed Captioned in English!
BONUS PRACTICAL TOOLKIT: Algorithms for Differential Diagnosis for DCD vs. 4 Conditions/Impairments; Chart: DCD Differential Diagnosis Summary; Resource: Links to Assessment Tools
Course Curriculum
Available in days

days after you enroll

Differential Diagnosis of DCD
Available in days

days after you enroll

BONUS: PRACTICAL TOOLKIT
Available in days

days after you enroll

POST-TEST and COURSE EVAL
TESTIMONIALS
What therapists say about Patti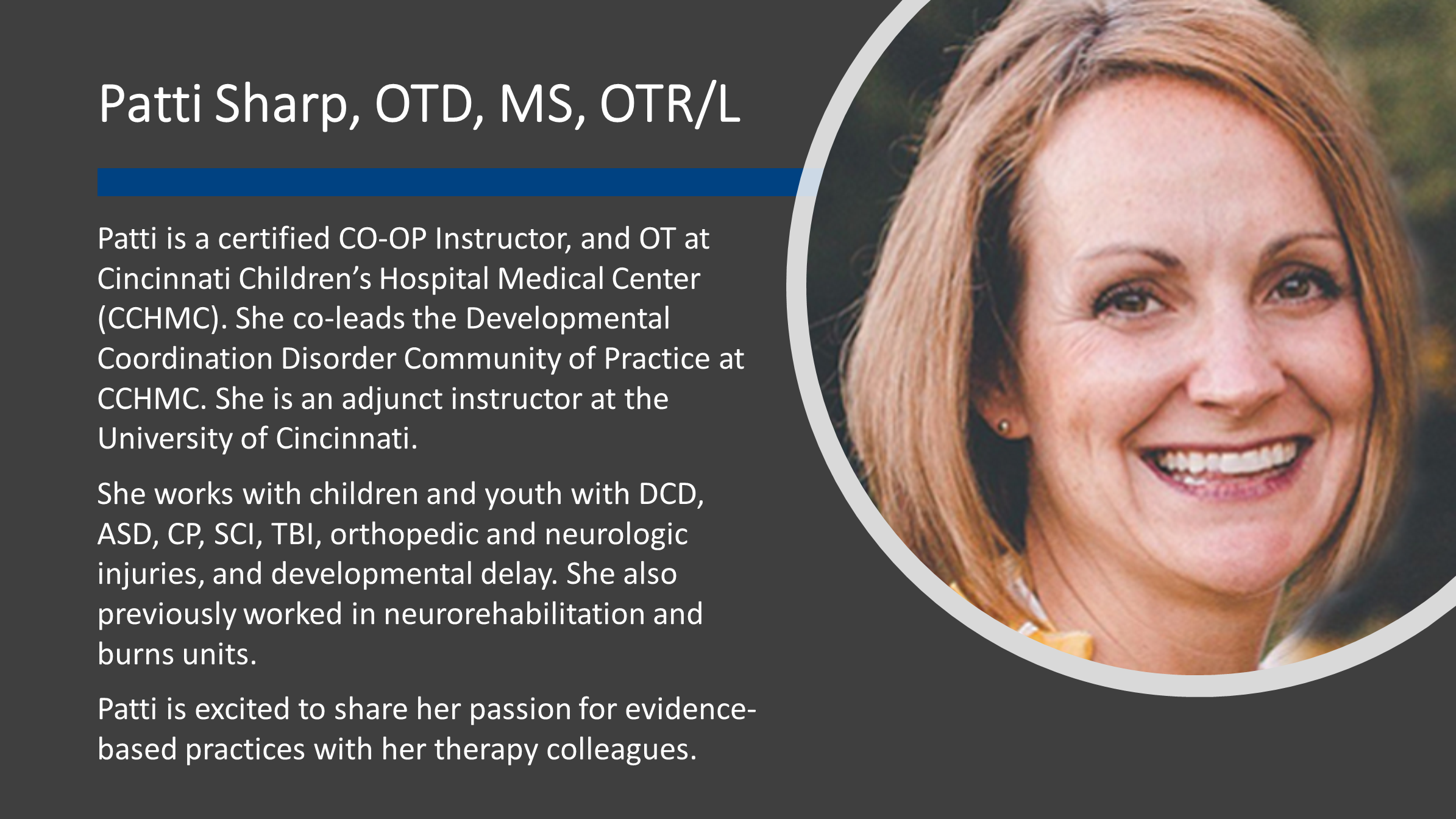 Very helpful! Learning more about DCD, especially what it is NOT and what signs of DCD could be.
- PT with 20 years experience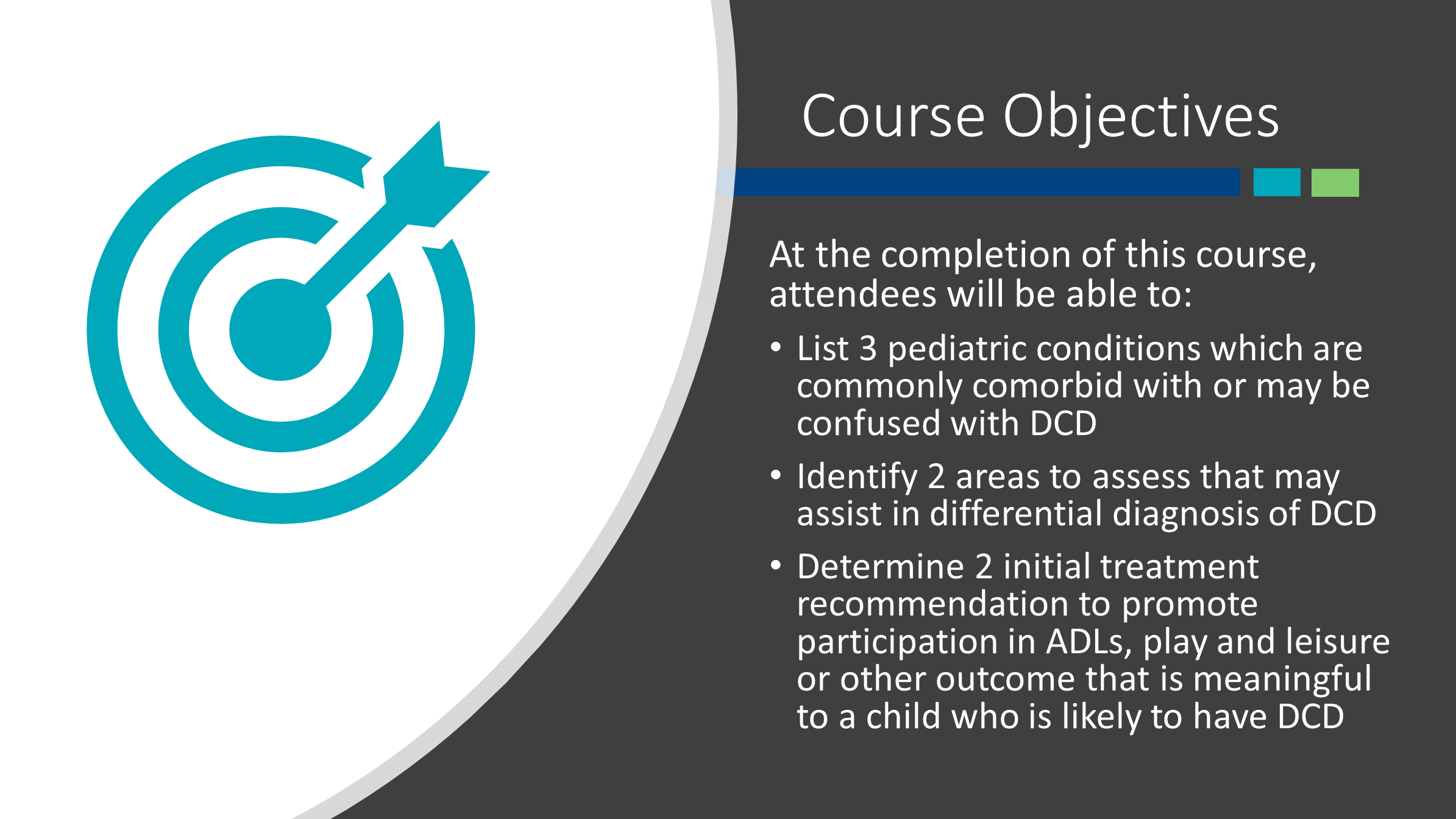 It was really eye opening that kids with so many different challenges potentially have DCD. This can help solve a lot of unknowns and grey areas.
- OT with 15 years experience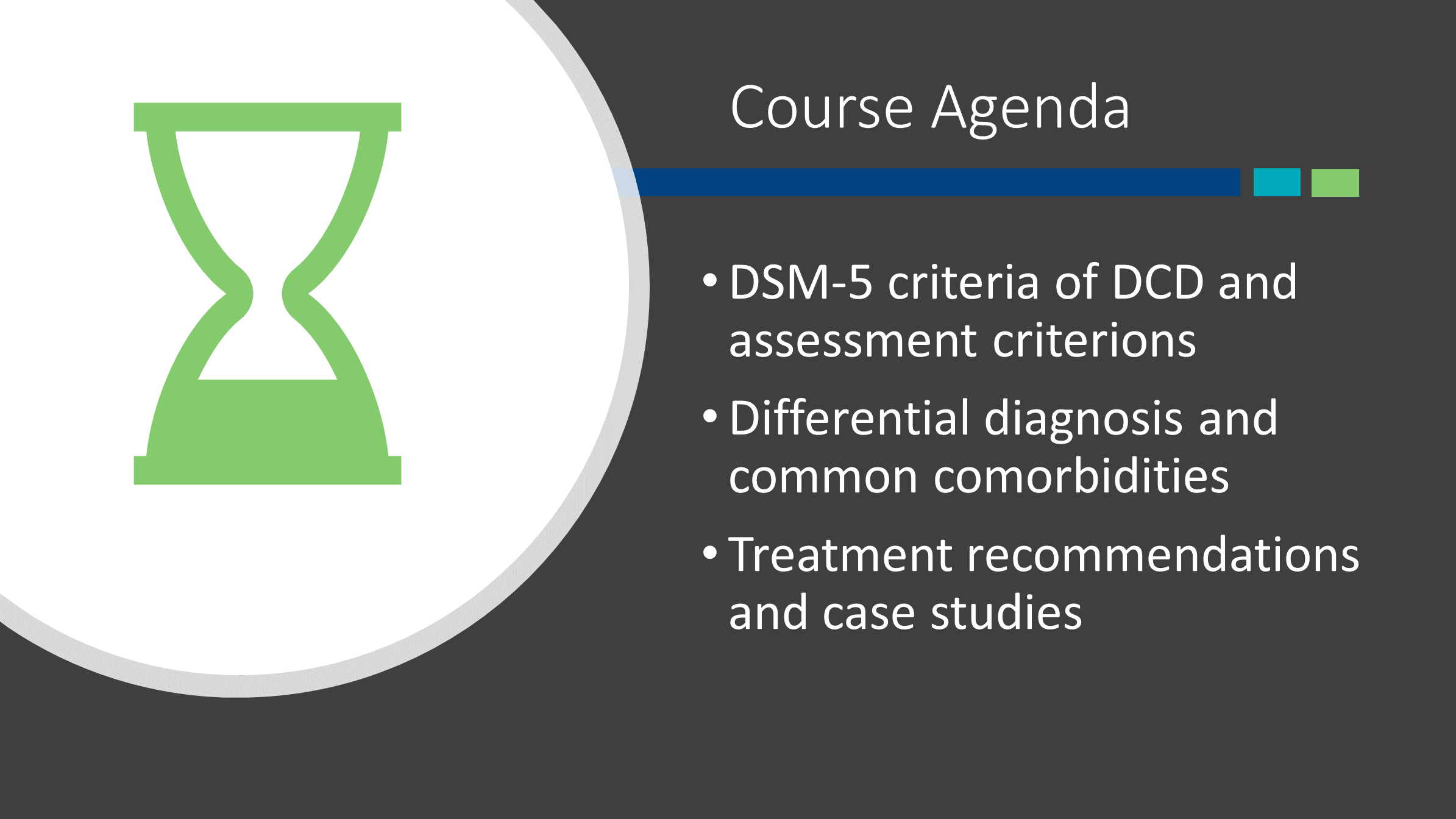 Very applicable and relevant to my practice; Nice distinction between motor versus cognitive problem.
- PT with 28 years experience
INSTRUCTOR: Patti Sharp, OTD, MS, OTR/L is a certified CO-OP Instructor, and OT at Cincinnati Children's Hospital Medical Center (CCHMC). She co-leads the Developmental Coordination Disorder Community of Practice at CCHMC. She is an adjunct instructor at the University of Cincinnati. She works with children and youth with DCD, ASD, CP, SCI, TBI, orthopedic and neurologic injuries, and developmental delay. She also previously worked in neurorehabilitation and burn units. Patti is excited to share her passion for evidence-based practices with her therapy colleagues.
AUDIENCE: OTs, PTs, OTAs, PTAs, and Educators
EDUCATIONAL LEVEL: Intermediate
PREREQUISITE: Knowledge of the screening, assessment and identification of children with possible DCD in accordance with the DSM-5. If you do not possess this knowledge, watch DCD-Assessment.
COURSE OBJECTIVES
At the completion of the course, the learner is expected to:
Identify 3 pediatric conditions which are commonly comorbid with or may be confused with DCD
Identify 2 areas to assess that may assist in differential diagnosis of DCD
Determine 2 initial treatment recommendation to promote participation in ADLs, play and leisure or other outcome that is meaningful to a child who is likely to have DCD
AGENDA
DSM-5 Criteria of DCD
Bad luck and Clumsiness vs. DCD
Joint Mobility vs. DCD
ADHD vs. DCD
Sensory Processing Difficulties vs. DCD
Post-test: 10-item multiple choice. 70% correct answers required to receive a certificate
CEU
1.5 continuing education hours of training are awarded to learners who complete this course.
Apply EBP, LLC is an approved provider of CEUs for PTs and PTAs in IL, NY; and for OTs and OTAs in IN and IL, and by AOTA (See imprimatur below for details).
This course is approved for PTs and PTAs in AR, CA.
These OT state boards accept approval by AOTA, other state boards or associations: AL, AK, AR, DE, FL, IL, IN, KY, LA, MD, MI, MN, MS, MO, MT, NV, NH, NM, NY, NC, ND, OH, OR, OK, PA, RI, SC, SD, TN, TX, VT, VA, WI and DC.
These PT state boards accept approval by other states boards or AOTA: AK, AZ, DE, HI, IN, KY, MI, MT, NC, ND, OR, PA, RI, TN, UT, VT, VA, WI, WY and DC.
These states do not require pre-approval of courses or have no CE requirements for OTs and OTAs: AZ, CA, CO, CT, GA, HI, ID, IA, KS, ME, MA, NE, NJ, UT, WA, WV and WY.
These states do not require pre-approval of courses or have no CE requirements for PTs and PTAs: AL, CO, CT, GA, IA, KS, ME, MA, MO, NE, NH, and WA.
If you would like to obtain CEUs for another state, please email us.
Learners must watch the video and complete course requirements, including scoring 70% or higher in the post-test to receive a certificate. Five (5) post-test retakes are allowed; if you exceed this limit, please email us.
POLICIES
You will have access to this course for at least 60 days.
There is no cancellation once course is purchased. Please email us if you have any questions.

Apply EBP, LLC abide by all provisions of the Americans with Disabilities Act (ADA). Apply EBP, LLC is committed to equal educational access for individuals with disabilities. Apply EBP, LLC does not discriminate against any individuals with disabilities from registering or attending any of our courses. We work closely with venues to ensure that facilities utilized are accessible. Individuals with disabilities are encouraged to contact us via

email

or phone (646-269-9039) with requests for accommodations. Apply EBP, LLC will make every effort to provide reasonable accommodations.