Duchenne Muscular Dystrophy 
Therapy intervention for children with Duchenne Muscular Dystrophy (DMD) is evolving in response to breakthroughs in pharmacology, medical management & technology. What should do, and what should we not do, to help them succeed at home, in school and in the community? Carly will discuss the stages of DMD progression, current medical management, standardized assessments, and intervention ideas to help you create a therapy plan with realistic and meaningful functional outcomes.
Closed Captioned in English.
BONUS: PRACTICAL TOOLKIT - Resources: Websites, Videos and Must-Reads; Assessment Tools: List and Links 
Course Curriculum
Available in days

days after you enroll

Duchenne Muscular Dystrophy
Available in days

days after you enroll

BONUS: PRACTICAL TOOLKIT
Available in days

days after you enroll

POST-TEST and COURSE EVAL
TESTIMONIALS
What therapists say about Carly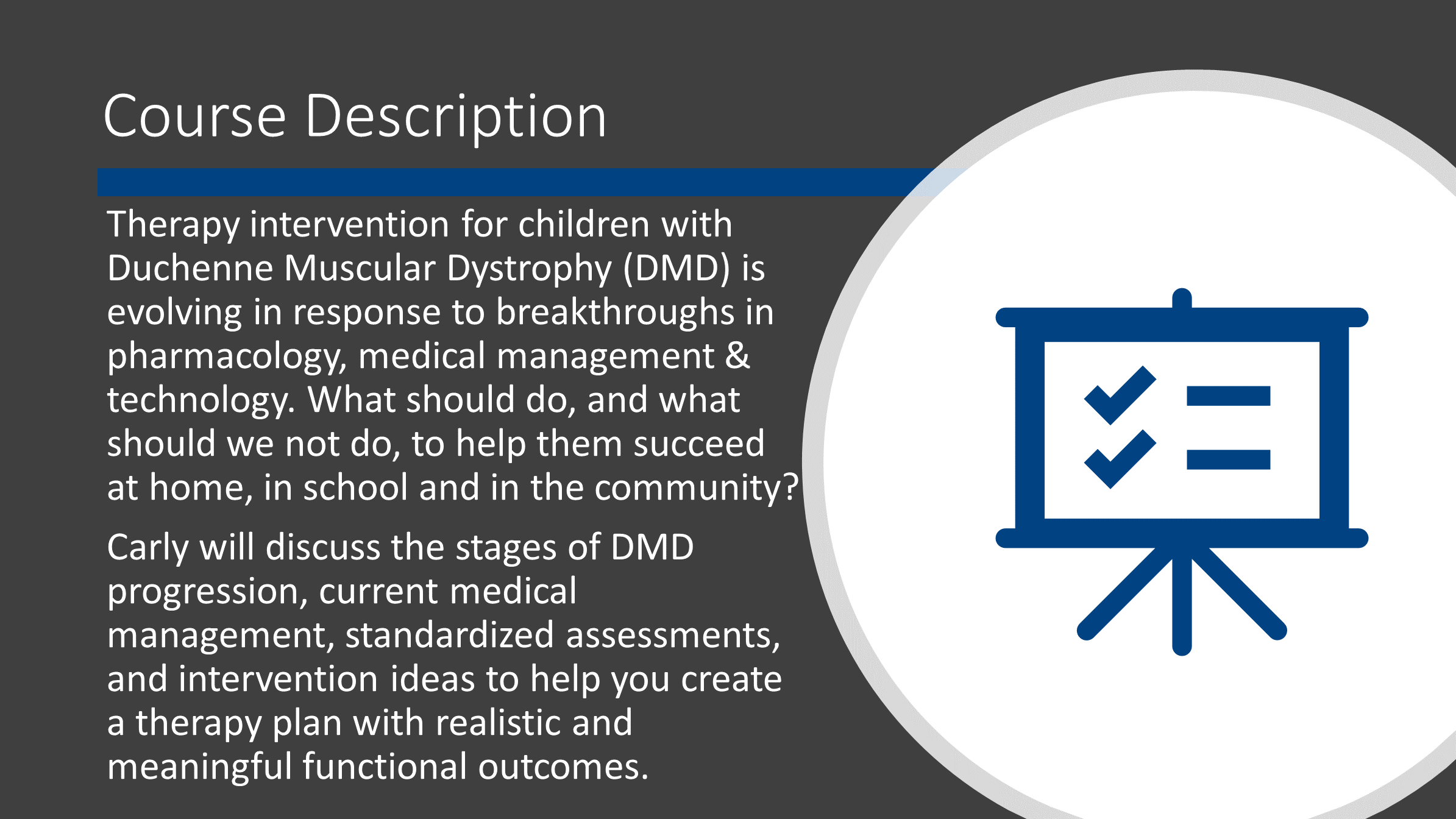 "Carly Stock is a thoughtful, experienced PT who is great resource for therapists working with children with neuromuscular disease. Thank you!"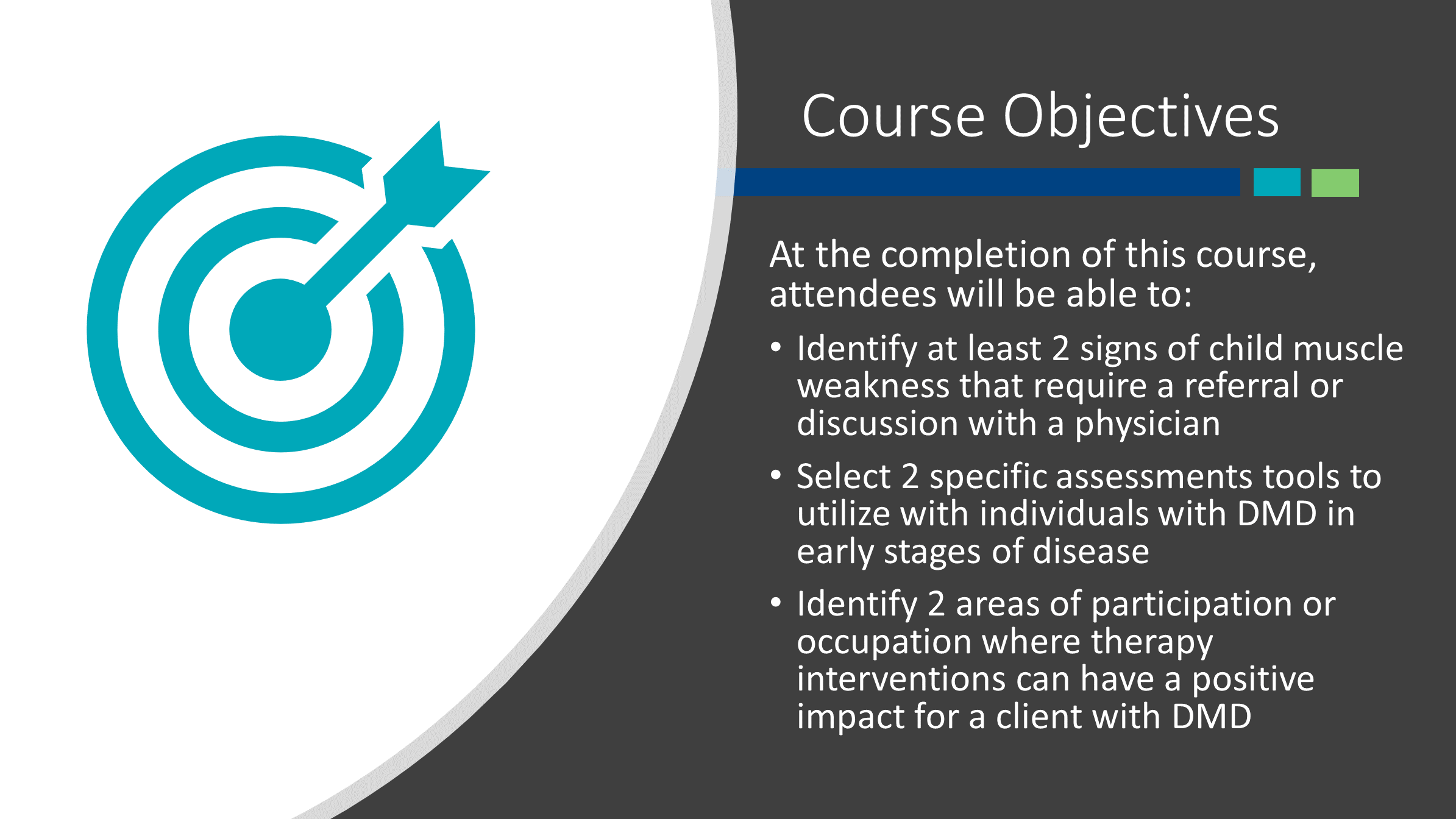 "Good information about the newest research and in regards to signs to look for in children."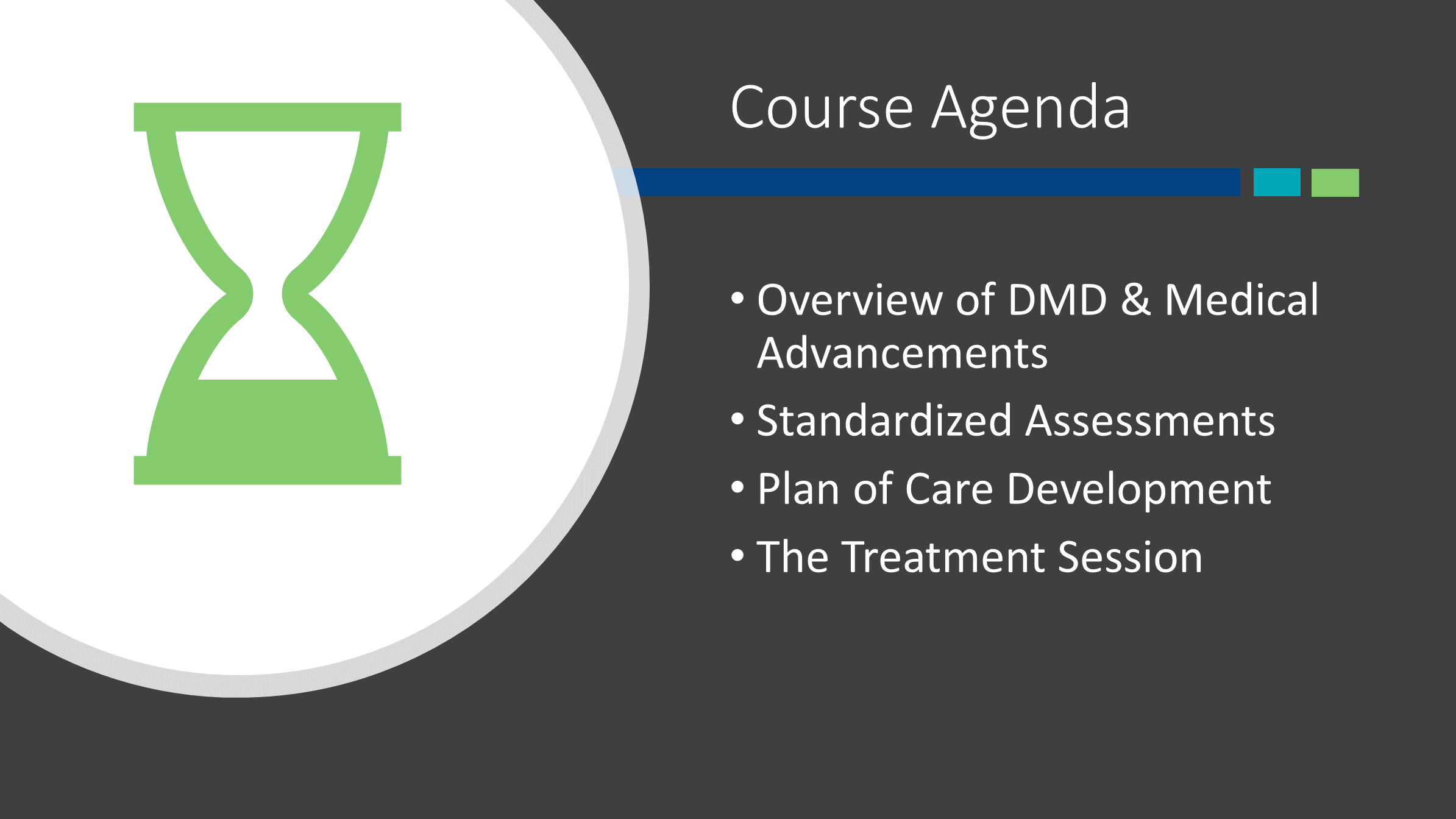 "You have such a wide range of experiences working with this population, it really helps cover all areas (clinic based, school based, home, etc)." 
INSTRUCTOR: Carly Matichack Stock, PT, DPT has had the pleasure of working in the realm of pediatrics, including school-based, multi-disciplinary clinics, research, outpatient and inpatient rehabilitation settings. She currently practices in the Harford County Public Schools in Bel Air, Maryland. Carly was a faculty mentor in the pediatric residency program at Kennedy Krieger Institute responsible for the school-based and muscular dystrophy components. Carly is passionate about forming meaningful relationships with children and families she serves and offering creative evidence-informed therapy services.
AUDIENCE: OTs, PTs, OTAs, PTAs, SLPs and Educators
EDUCATIONAL LEVEL: Intermediate
COURSE OBJECTIVES
At the completion of the course, the learner is expected to:
Identify at least 2 signs of child muscle weakness that require a referral or discussion with a physician​
Select 2 specific assessments tools to utilize with individuals with DMD in early stages of disease​
Identify 2 areas of participation or occupation where therapy interventions can have a positive impact for a client with DMD
AGENDA
Overview of DMD: Medical Advancements​
Standardized Assessments​
Plan of Care Development
The Treatment Session
Post-test: 10-item multiple choice. 70% correct answers required to receive a certificate
CEU
1.0 continuing education hours of training are awarded to learners who complete this course.
Apply EBP, LLC is an approved provider of CEUs for PTs and PTAs in IL, NY; and for OTs and OTAs in IN, IL, and by AOTA (see imprimatur below for details).
This course has been approved for PTs and PTAs in AR, CA and TX (approval #

74083TX).

These OT state boards accept approval by AOTA, other state boards or associations: AL, AK, AR, DE, DC, FL, IL, IN, KY, LA, MD, MI, MN, MS, MO, MT, NV, NH, NM, NY, NC, ND, OH, OR, OK, PA, RI, SC, SD, TN, TX, VT, VA, WI and DC.
These PT state boards accept approval by other states boards, other state associations, or AOTA: AK, AZ, DE, FL, HI, IN, KY, MI, MT, NC, ND, OR, PA, RI, SD, TN, UT, VT, VA, WI, WY and DC.
These states do not require pre-approval of courses or have no CE requirements for OTs and OTAs: AZ, CA, CO, CT, GA, HI, ID, IA, KS, ME, MA, NE, NJ, UT, WA, WV and WY.
These states do not require pre-approval of courses or have no CE requirements for PTs and PTAs: AL, CO, CT, GA, IA, KS, ME, MA, MO, NE, NH, and WA.
If you would like to obtain CEUs for another state, please email us.
Learners must watch the video and complete course requirements, including scoring 70% or higher in the post-test to receive a certificate. Five (5) post-test retakes are allowed; if you exceed this limit, please email us.
POLICIES
You will have access to this course for at least 60 days.
There is no cancellation once course is purchased. Please email us if you have any questions.

Apply EBP, LLC abide by all provisions of the Americans with Disabilities Act (ADA). Apply EBP, LLC is committed to equal educational access for individuals with disabilities. Apply EBP, LLC does not discriminate against any individuals with disabilities from registering or attending any of our courses. We work closely with venues to ensure that facilities utilized are accessible. Individuals with disabilities are encouraged to contact us via

email

or phone (646-269-9039) with requests for accommodations. Apply EBP, LLC will make every effort to provide reasonable accommodations.