Incorporating Self-Determination into Your Pediatric Practice
Are your pediatric clients reliant on prizes or adults to be motivated to accomplish tasks? There is a better way! 
Amy will discuss concrete strategies you can include in your current interventions to help your clients grow up into self-determined adults. In addition to getting them engaged and motivated, higher levels of self-determination are correlated with positive school, employment and independent living outcomes. This webinar will introduce you to the Questioning Mindset, a child-led approach that can easily be incorporated into your individual, small group and whole class sessions. You will learn how to use the 5 Questions and multiple strategies of this approach to help your pediatric clients achieve self-satisfaction as they reach their goals in meaningful life activities.
Closed Captioned in English!
BONUS: PRACTICAL TOOLKIT - Chart: The Questioning Mindset; Song and Lesson Plan: Creating a Plan
Example Curriculum
Available in days

days after you enroll

Self-Determination
Available in days

days after you enroll

BONUS: PRACTICAL TOOLKIT
Available in days

days after you enroll

POST-TEST and COURSE EVAL
TESTIMONIALS
What therapists say about Amy's courses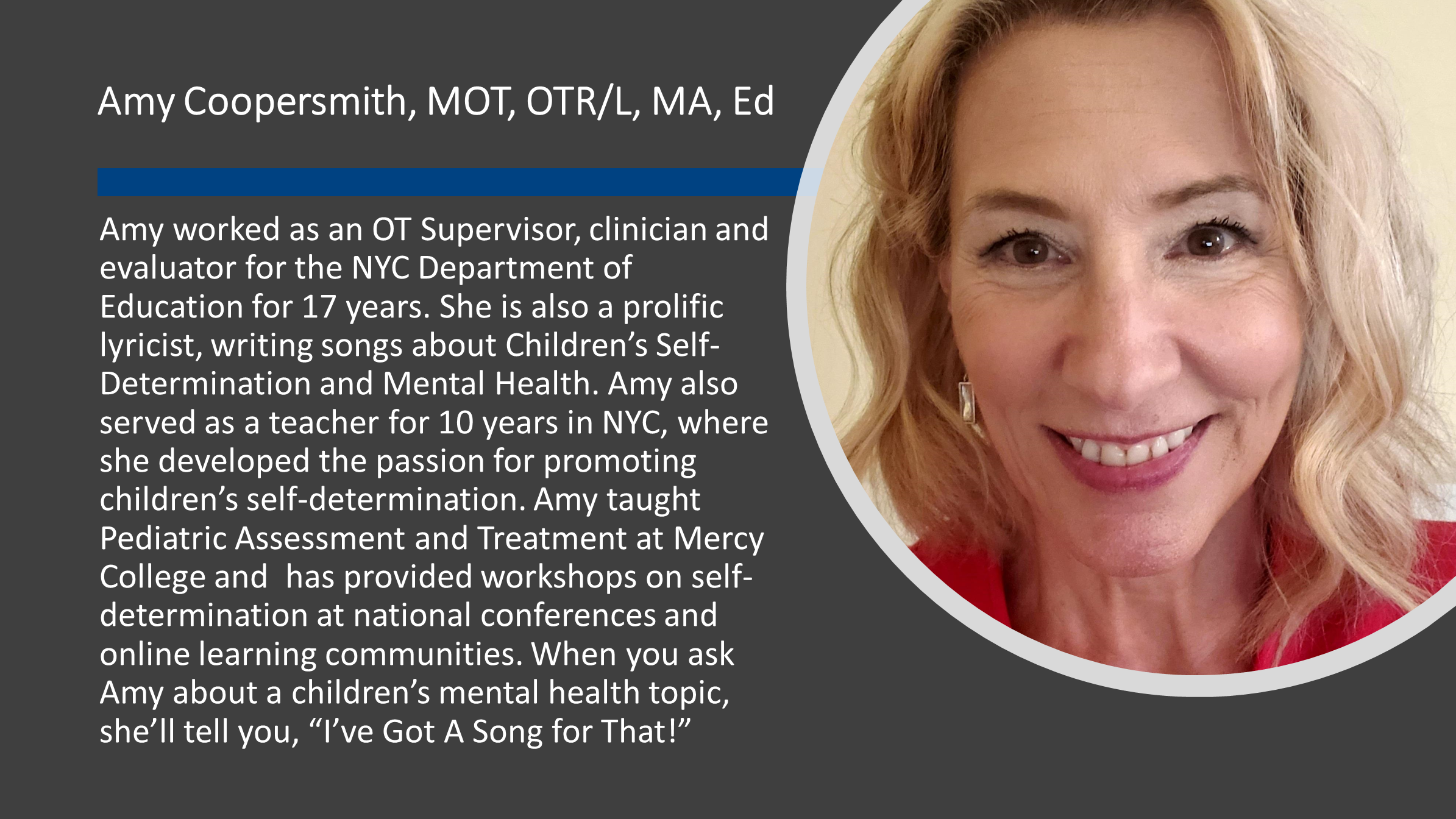 "Useful information and love the focus on incorporating students more in the goal setting and monitoring process. I have several students that would benefit from this."
- PT with 26 years experience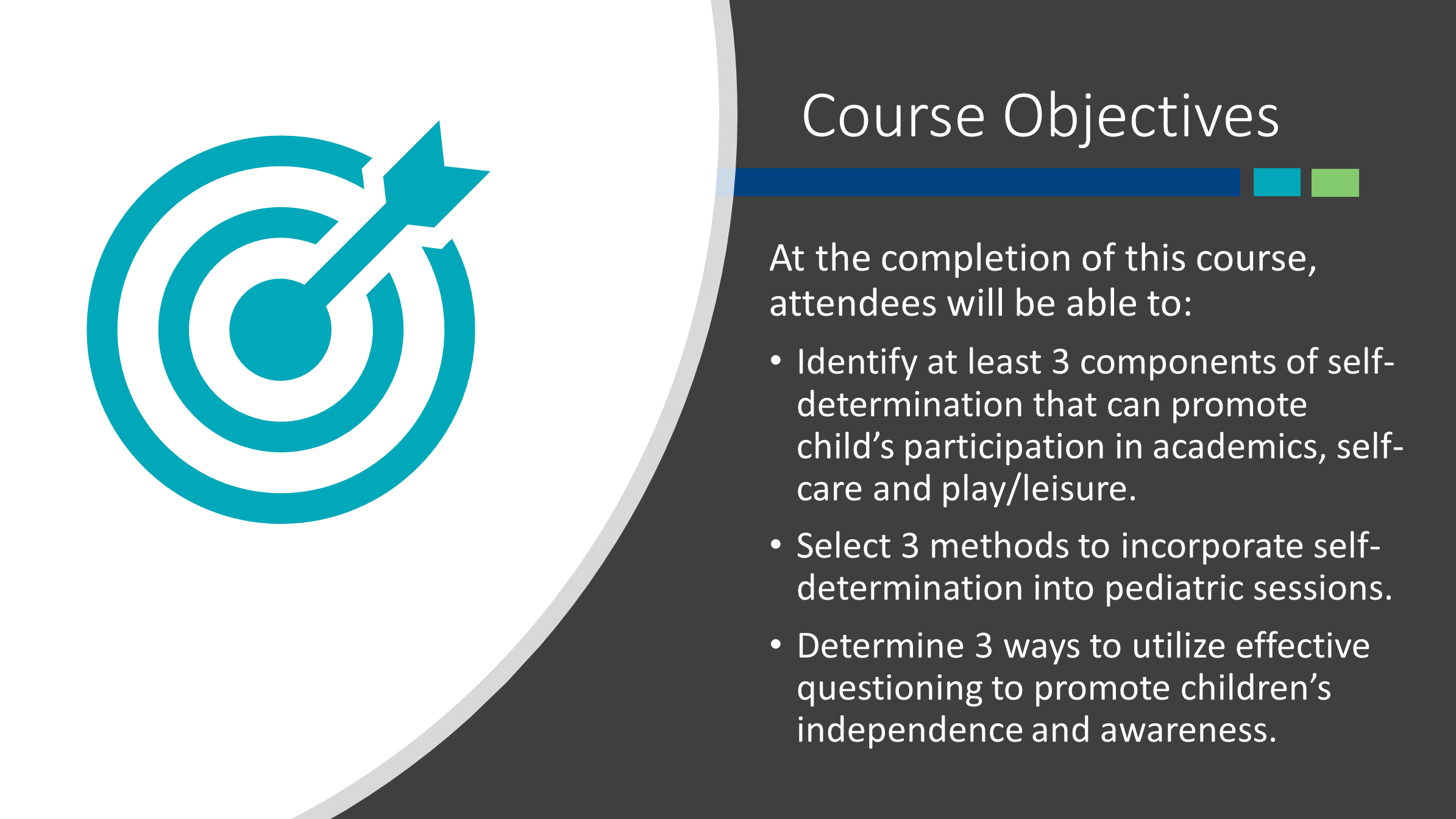 "This is an amazing course. I will begin using this with my students."
- OT with 29 years experience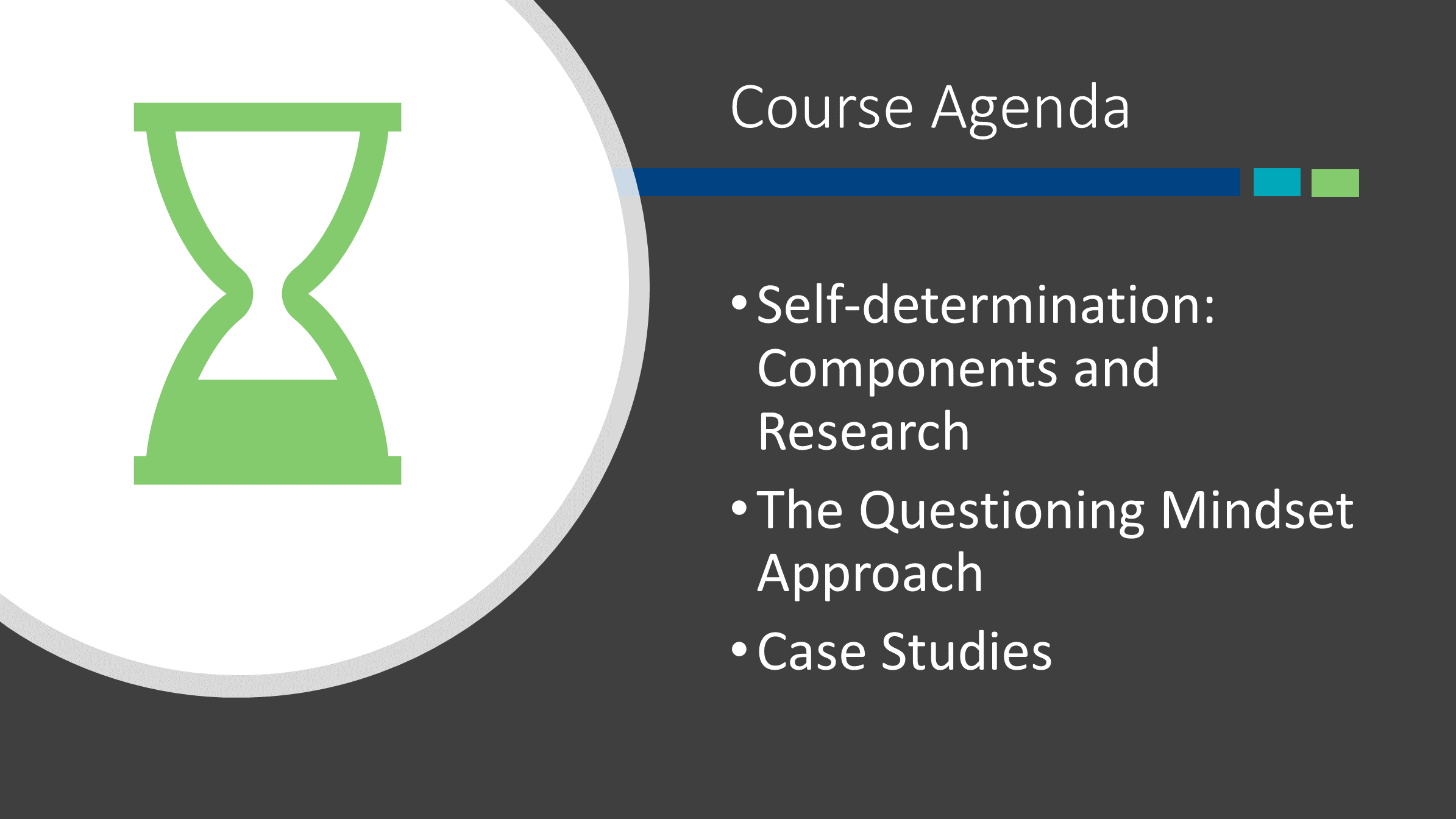 "Love this topic! Can start using tomorrow!"
- PT with 15 years experience
INSTRUCTOR: Amy Coopersmith, MOT, OTR/L, MA, Ed worked as an OT Supervisor, clinician and evaluator for the NYC Department of Education for 17 years. She is also a prolific lyricist, writing songs about Children's Self-Determination and Mental Health. She is passionate about promoting children's self-determination and has provided workshops at national conferences and online learning communities. Previously, Amy taught Pediatric Assessment and Treatment at Mercy College and worked for ten years as a teacher in New York City. When you ask Amy about a children's mental health topic, she'll tell you, "I've Got A Song for That!" 
AUDIENCE: OTs, PTs, OTAs, PTAs, SLPs and Educators
EDUCATIONAL LEVEL: Intermediate
COURSE OBJECTIVES
At the completion of the course, the learner is expected to:
Identify at least 3 components of self-determination that can promote child's participation in academics, self-care and play/leisure.
Select 3 methods to incorporate self-determination into pediatric sessions.  
Determine 3 ways to utilize effective questioning to promote children's independence and awareness.
AGENDA
Self-determination
Components, Research and Strategies
The Questioning Mindset
Case Studies
Post-test: 10-item multiple choice. 70% correct answers required to receive a certificate
CEU
1.5 continuing education hours of training are awarded to learners who complete this course.
Apply EBP, LLC is an approved provider of CEUs for PTs and PTAs in IL, NY; and for OTs and OTAs in IN, IL, and by AOTA (see imprimatur below for details).
This course is approved for PTs and PTAs in AR and CA.
These OT state boards accept approval by AOTA, other state boards or associations: AL, AK, AR, DE, DC, FL, IL, IN, KY, LA, MD, MI, MN, MS, MO, MT, NV, NH, NM, NY, NC, ND, OH, OR, OK, PA, RI, SC, SD, TN, TX, VT, VA and WI.

These PT state boards accept approval by other states boards or AOTA: AK, AZ, DE, HI, IN, KY, MI, MT, NC, ND, OR, PA, RI, TN, UT, VT, VA, WI, WY and DC.

These states do not require pre-approval of courses or have no CE requirements for OTs and OTAs: AZ, AR, CA, CO, CT, GA, HI, ID, IA, KS, ME, MA, MN, MO, NE, NJ, NV, NH, NC, ND, OH, OR, SC, SD, TN, TX UT, VT, WA, WV, WI and WY.
These states do not require pre-approval of courses or have no CE requirements for PTs and PTAs: AL, CO, CT, GA, IA, KS, ME, MA, MO, NE, NH, and WA.
If you would like to obtain CEUs for another state, please email us.
Learners must watch the video and complete course requirements, including scoring 70% or higher in the post-test to receive a certificate. Five (5) post-test retakes are allowed; if you exceed this limit, please email us.
COURSE RECOMMENDATIONS: Expand your knowledge of self-determination and goal-writing with these courses:
POLICIES
You will have access to this course for at least 60 days.
There is no cancellation once course is purchased. Please email us if you have any questions.

Apply EBP, LLC abide by all provisions of the Americans with Disabilities Act (ADA). Apply EBP, LLC is committed to equal educational access for individuals with disabilities. Apply EBP, LLC does not discriminate against any individuals with disabilities from registering or attending any of our courses. We work closely with venues to ensure that facilities utilized are accessible. Individuals with disabilities are encouraged to contact us via 

email

 or phone (646-269-9039) with requests for accommodations. Apply EBP, LLC will make every effort to provide reasonable accommodations.