Medicaid, Plan of Care & Documentation
This webinar covers the area of school-based practice that is often not well understood. Laurie will discuss legislation, federal Medicaid guidance, audit findings and case law to explore how the two 'worlds' of school-based practice and Medicaid can best work together. While specifics can vary from state to state, there are some foundational characteristics that can help therapists develop plan of cares (POCs) and session notes which are both educationally relevant and Medicaid compliant.
Closed Captioning in English available. 
BONUS PRACTICAL TOOLKIT: Checklist: Plan of Care and Session Documentation that Conveys Medical Necessity
TESTIMONIALS
What therapists say about this course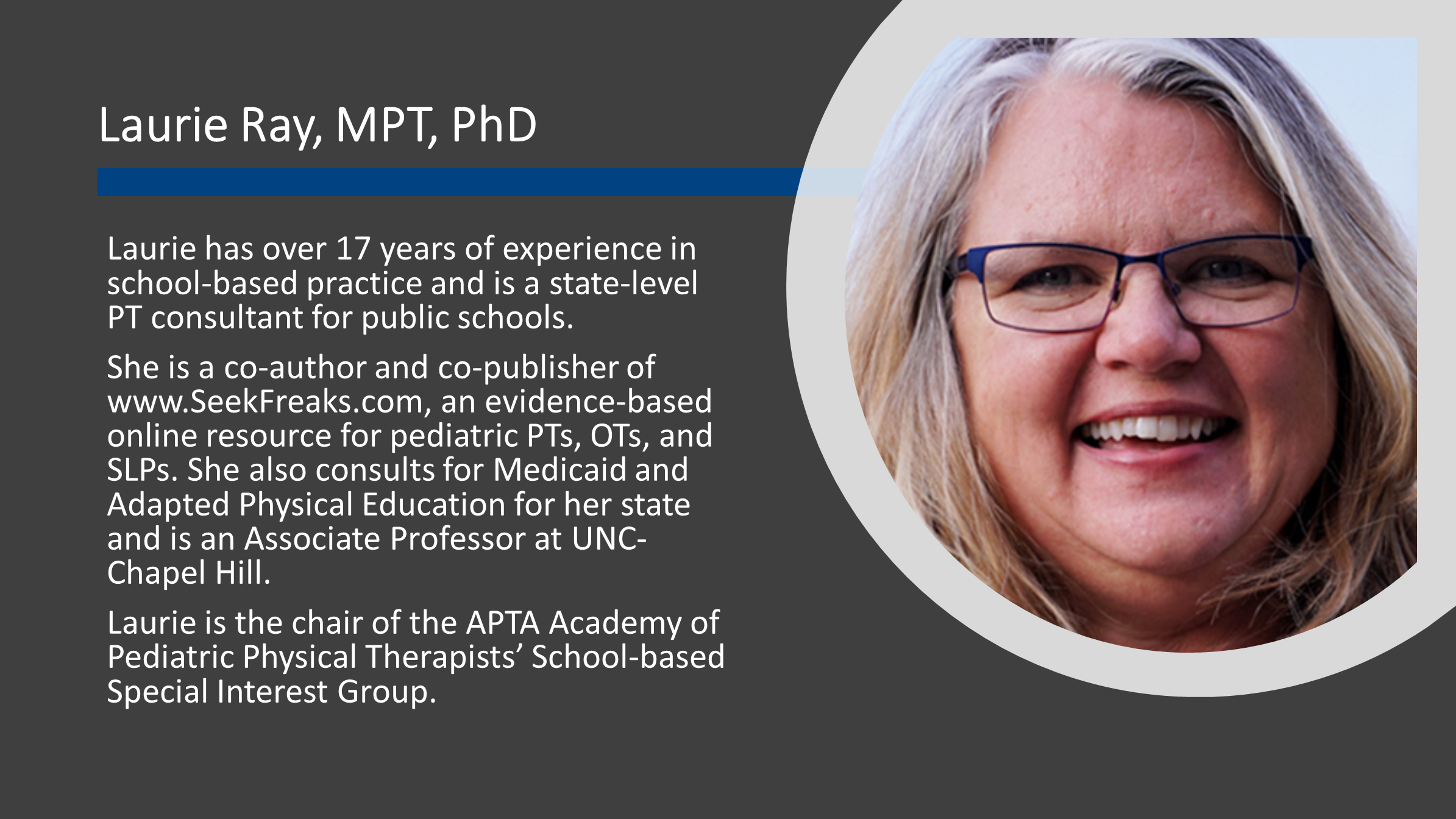 Laurie took what could have been a ridiculously boring topic and made it relevant and interesting. I loved the re-framing documentation as a time for reflection on the treatment and to plan for the next one.
- PT with 21 years of experience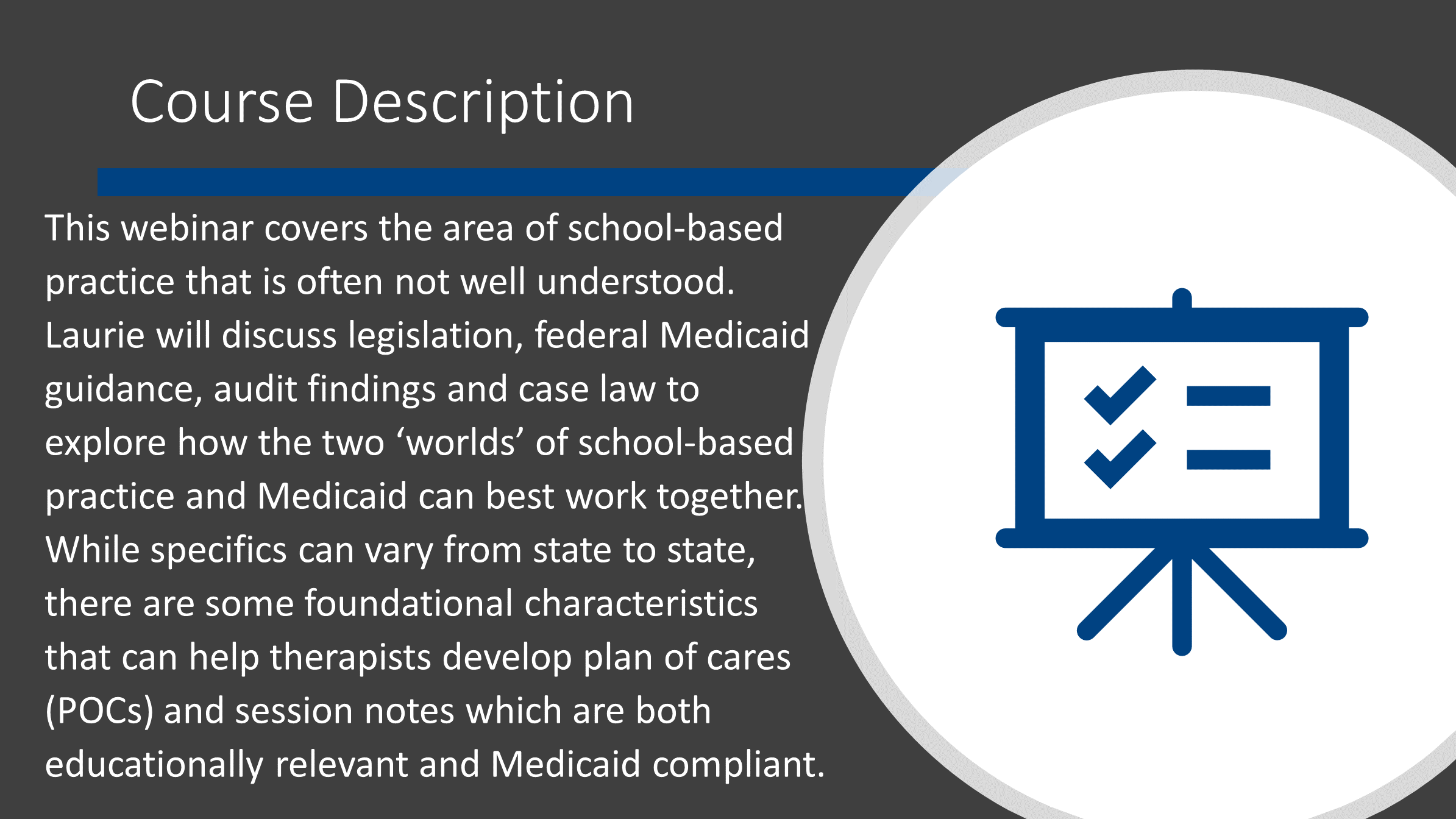 This session provided me further input on the role of Medicaid and available sources applied to school-based therapy.
- COTA with 2 years of experience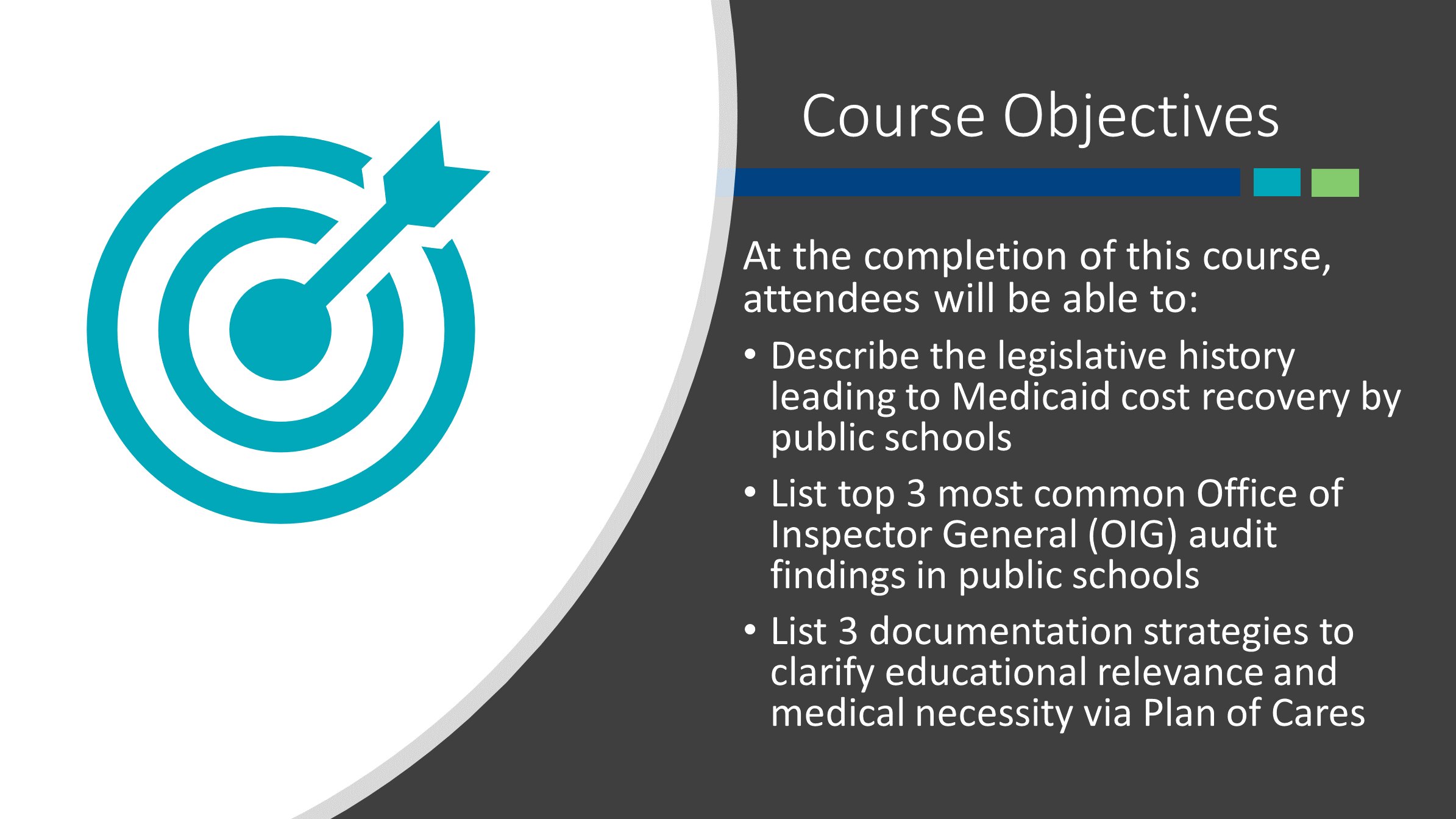 Eye opening! Gave clear ways to immediately improve documentation to assure compliance.
- PT with 27 years of experience
INSTRUCTOR: Laurie Ray, MPT, PhD has over 17 years of experience in school-based practice and is a state-level PT consultant for public schools. She is a co-author and co-publisher of www.SeekFreaks.com, an evidence-based online resource for pediatric PTs, OTs, and SLPs. She also consults for Medicaid and Adapted Physical Education for her state and is an Associate Professor at UNC-Chapel Hill. Laurie is the chair of the APTA Academy of Pediatric Physical Therapists' School-based Special Interest Group.
AUDIENCE: OTs, PTs, OTAs, PTAs, SLPs and Educators
EDUCATIONAL LEVEL: Intermediate
COURSE OBJECTIVES
At the completion of the course, the learner is expected to:
Identify 2 Centers for Medicare & Medicaid Services (CMS) audit standards for provision of school-based services for students with disabilities
Select 2 ways documentation can support clinical reasoning for therapy services that promote students' access and participation in their education
Determine 2 strategies to ensure that a therapist's documentation and/or Plan of Care supports medical necessity for reimbursement
AGENDA
Introduction: Medicaid and Education?

Ethical Practice

Medical Necessity

Lessons Learned from Audits

Documentation Strategies

Post-test: 10-item multiple choice. 70% correct answers required to receive a certificate
CEU
1.5 continuing education hours of training are awarded to learners who complete this course.
Apply EBP, LLC is an approved provider of CEUs for PTs and PTAs in IL, NY; and for OTs and OTAs in IN, IL, NY, and AOTA (see imprimatur below for details).
This webinar is approved for PTs and PTAs in AR and CA.

These OT state boards accept approval by other states: AL, AK, MI, MS, PA, VA and DC.
These PT state boards accept approval by other states boards or AOTA: AK, AZ, DE, HI, IN, KY, MI, MT, NC, ND, OR, PA, RI, TN, UT, VT, VA, WI, WY and DC.
These states do not require pre-approval of courses or have no CE requirements for OTs and OTAs: AZ, AR, CA, CO, CT, GA, HI, ID, IA, KS, ME, MA, MN, MO, NE, NJ, NV, NH, NC, ND, OH, OR, SC, SD, TN, TX UT, VT, WA, WV, WI and WY.
These states do not require pre-approval of courses or have no CE requirements for PTs and PTAs: AL, CO, CT, GA, IA, KS, ME, MA, MO, NE, NH, and WA.
If you would like to obtain CEUs for another state, please email us.
Learners must watch the video and complete course requirements, including scoring 70% or higher in the post-test to receive a certificate. Five (5) post-test retakes are allowed; if you exceed this limit, please email us.
COURSE RECOMMENDATIONS: Expand your knowledge of regulations affecting school-based with these courses:
POLICIES
You will have access to this course for at least 60 days.
There is no cancellation once course is purchased. Please email us if you have any questions.

Apply EBP, LLC abide by all provisions of the Americans with Disabilities Act (ADA). Apply EBP, LLC is committed to equal educational access for individuals with disabilities. Apply EBP, LLC does not discriminate against any individuals with disabilities from registering or attending any of our courses. We work closely with venues to ensure that facilities utilized are accessible. Individuals with disabilities are encouraged to contact us via

email

or phone (646-269-9039) with requests for accommodations. Apply EBP, LLC will make every effort to provide reasonable accommodations.