Self-Management Strategies
How do your pediatric clients handle difficult situations? Do they meltdown, throw a tantrum or refuse to engage? This webinar will help you promote your clients' ability to self-manage while participating in meaningful life activities. You will learn the 5 components of self-management strategies. Amy will then walk you through her "Make it SNAPP-E!" approach that summarizes how you can help children self-manage. She will present examples for self-management strategies for 4 case scenarios: getting calm, getting organized, handling mistakes and managing medical needs. She will also provide various hacks for calming corners for homes and classrooms.
Closed Captioned in English!
BONUS: PRACTICAL TOOLKIT - Graphics: Make It SNAPP-E! 6 Steps to Self-Management; 2 Songs for Self-Management, with Social Story PowerPoint and Practitioner's Guide
TESTIMONIALS
What therapists say about Amy's courses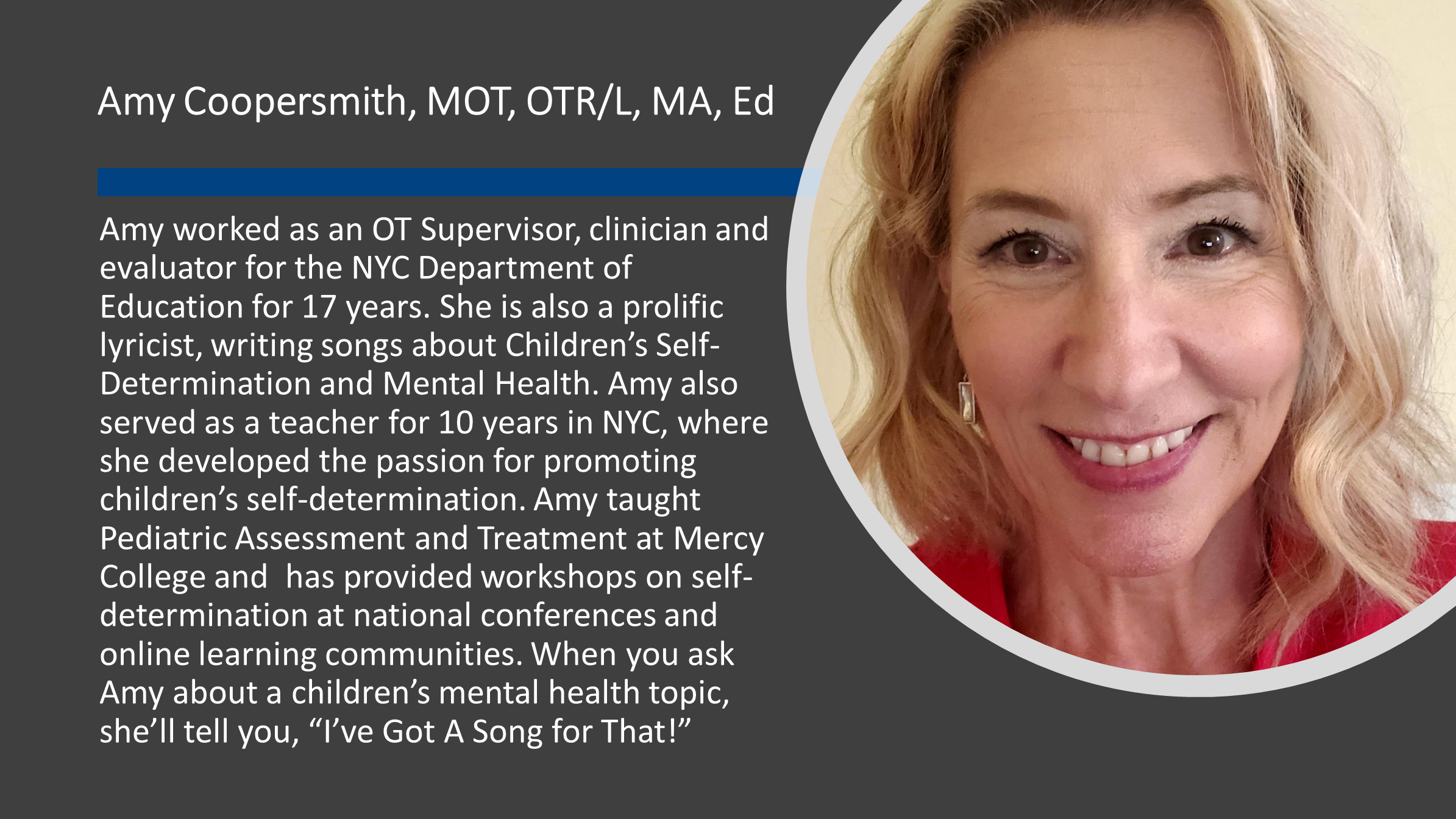 Amy's presentation highlights the power of enabling students to set their own goals and feel respected, determining what is most meaningful to them as individuals.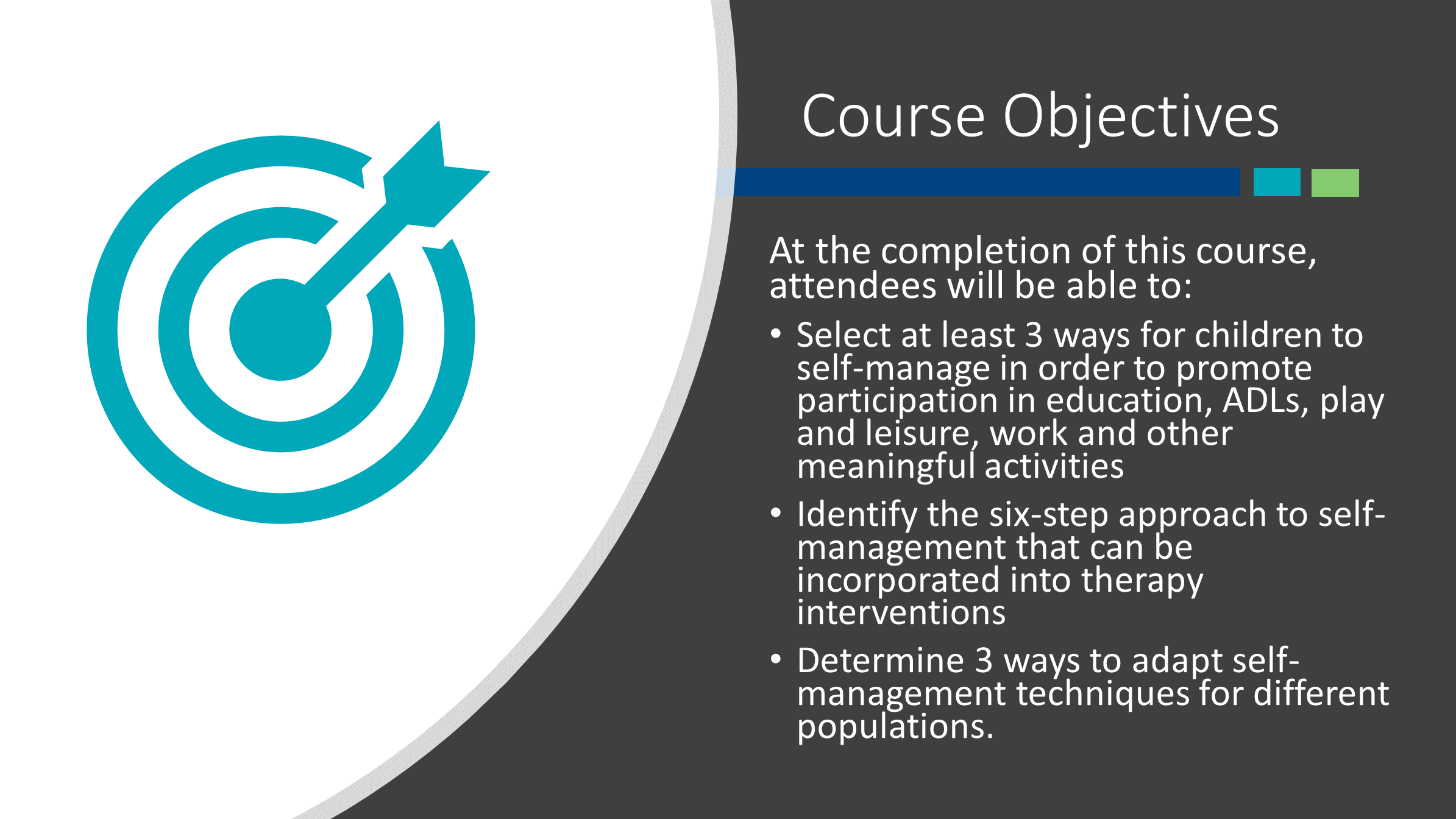 It provided me with samples and lots of ideas that were easy to implement into my sessions with the students.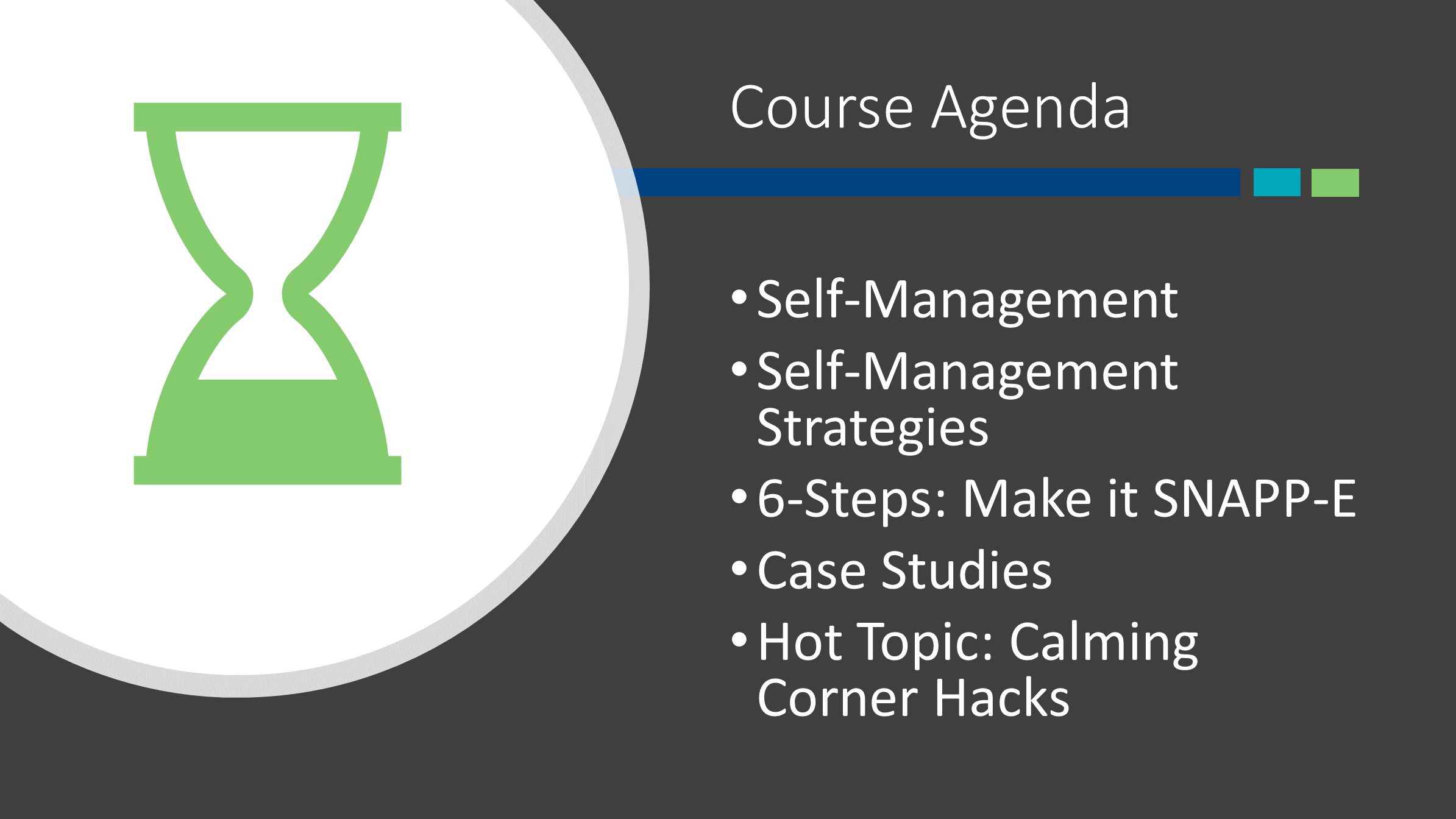 The work surrounding goal setting and metacognition has definitely been transformative for me as a clinician and has helped my students actively engage in the therapeutic process. I think you are onto something AMAZING and a critical piece of treatment that yields results!
INSTRUCTOR: Amy Coopersmith, MOT, OTR/L, MA, Ed worked as an OT Supervisor, clinician and evaluator for the NYC Department of Education for 17 years. She is also a prolific lyricist, writing songs about Children's Self-Determination and Mental Health. She is passionate about promoting children's self-determination and has provided workshops at national conferences and online learning communities. Previously, Amy taught Pediatric Assessment and Treatment at Mercy College and worked for ten years as a teacher in New York City. When you ask Amy about a children's mental health topic, she'll tell you, "I've Got A Song for That!" 
AUDIENCE: OTs, PTs, OTAs, PTAs, SLPs and Educators
EDUCATIONAL LEVEL: Intermediate
COURSE OBJECTIVES
At the completion of the course, the learner is expected to:
Select at least 3 ways for children to self-manage in order to promote participation in education, ADLs, play and leisure, work and other meaningful activities
Identify the six-step approach to self-management that can be incorporated into therapy interventions
Determine 3 ways to adapt self-management techniques for different populations.
AGENDA
Intro to Self-management (17 mins)

Self-Management Strategies, Tools and Resources (38 mins)

Case Studies and Examples (38 mins)

Post-test: 10-item multiple choice. 70% correct answers required to receive a certificate
CEU
1.5 continuing education hours of training are awarded to learners who complete this course.
Apply EBP, LLC is an approved provider of CEUs for PTs and PTAs in IL, NY; and for OTs and OTAs in IN, IL, and AOTA (see imprimatur below for details).
This course is approved for for PTs and PTAs in AR and CA.
These OT state boards accept approval by AOTA, other state boards or associations: AL, AK, AR, DE, DC, FL, IL, IN, KY, LA, MD, MI, MN, MS, MO, MT, NV, NH, NM, NY, NC, ND, OH, OR, OK, PA, RI, SC, SD, TN, TX, VT, VA and WI.

These PT state boards accept approval by other states boards or AOTA: AK, AZ, DE, HI, IN, KY, MI, MT, NC, ND, OR, PA, RI, TN, UT, VT, VA, WI, WY and DC.

These states do not require pre-approval of courses or have no CE requirements for OTs and OTAs: AZ, CA, CO, CT, GA, HI, ID, IA, KS, ME, MA, NE, NJ, UT, WA, WV and WY.
These states do not require pre-approval of courses or have no CE requirements for PTs and PTAs: AL, CO, CT, GA, IA, KS, ME, MA, MO, NE, NH, and WA.
If you would like to obtain CEUs for another state, please email us.Learners must watch the video and complete course requirements, including scoring 70% or higher in the post-test to receive a certificate. Five (5) post-test retakes are allowed; if you exceed this limit, please email us.
POLICIES
You will have access to this course for at least 60 days.
There is no cancellation once course is purchased. Please email us if you have any questions.

Apply EBP, LLC abide by all provisions of the Americans with Disabilities Act (ADA). Apply EBP, LLC is committed to equal educational access for individuals with disabilities. Apply EBP, LLC does not discriminate against any individuals with disabilities from registering or attending any of our courses. We work closely with venues to ensure that facilities utilized are accessible. Individuals with disabilities are encouraged to contact us via 

email

 or phone (646-269-9039) with requests for accommodations. Apply EBP, LLC will make every effort to provide reasonable accommodations.