Telehealth in Pediatrics
Tools and Strategies from Assessment to Interventions
Do you want to be effective and organized in providing telehealth to your clients? In this webinar, Carly will provide you with various tools, strategies and resources that you can implement right away. This webinar will cover assessment tools that have been shown to be valid to administer via telehealth, plus others that show potential. Carly will provide concrete strategies and case examples on structuring your treatment sessions for the day, week or longer, and what to do asynchronously in between your sessions to ensure continued practice, check-in and accountability. She will also provide practical tips for such important topics as documentation, billing and collaboration. Be effective and fulfilled in providing telehealth now, whether you are a home,-based, clinic-based or school-based therapist OT, PT or SLP!
Closed Caption in English available.
BONUS: PRACTICAL TOOLKIT: Checklists, Planner, Graphics and Resources
TESTIMONIALS
What therapists say about Carly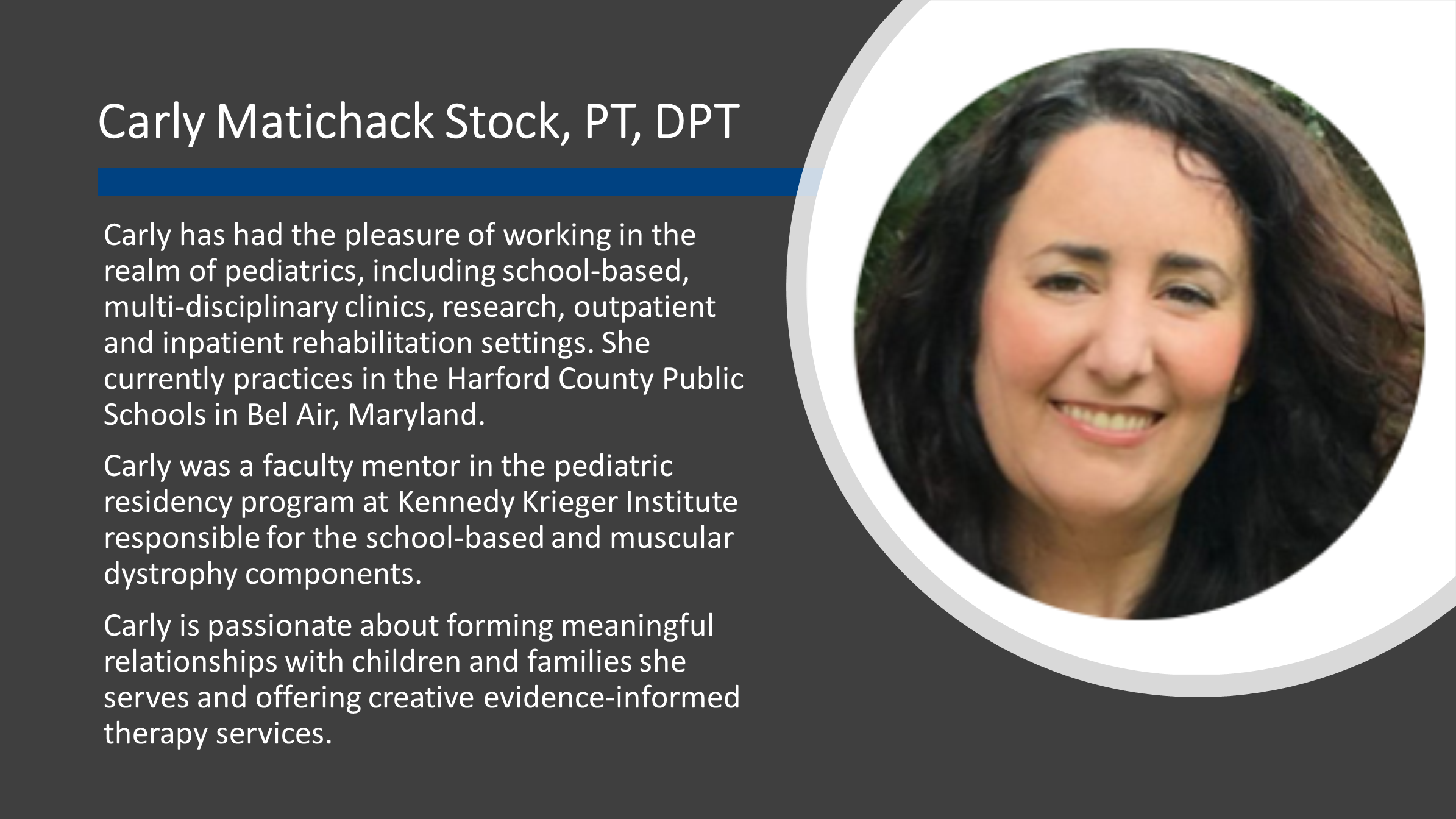 "It moved quickly through the different areas of teletherapy; assessment, intervention and documentation. Carly did a great job with incorporating videos in."
- OT with 19 years of experience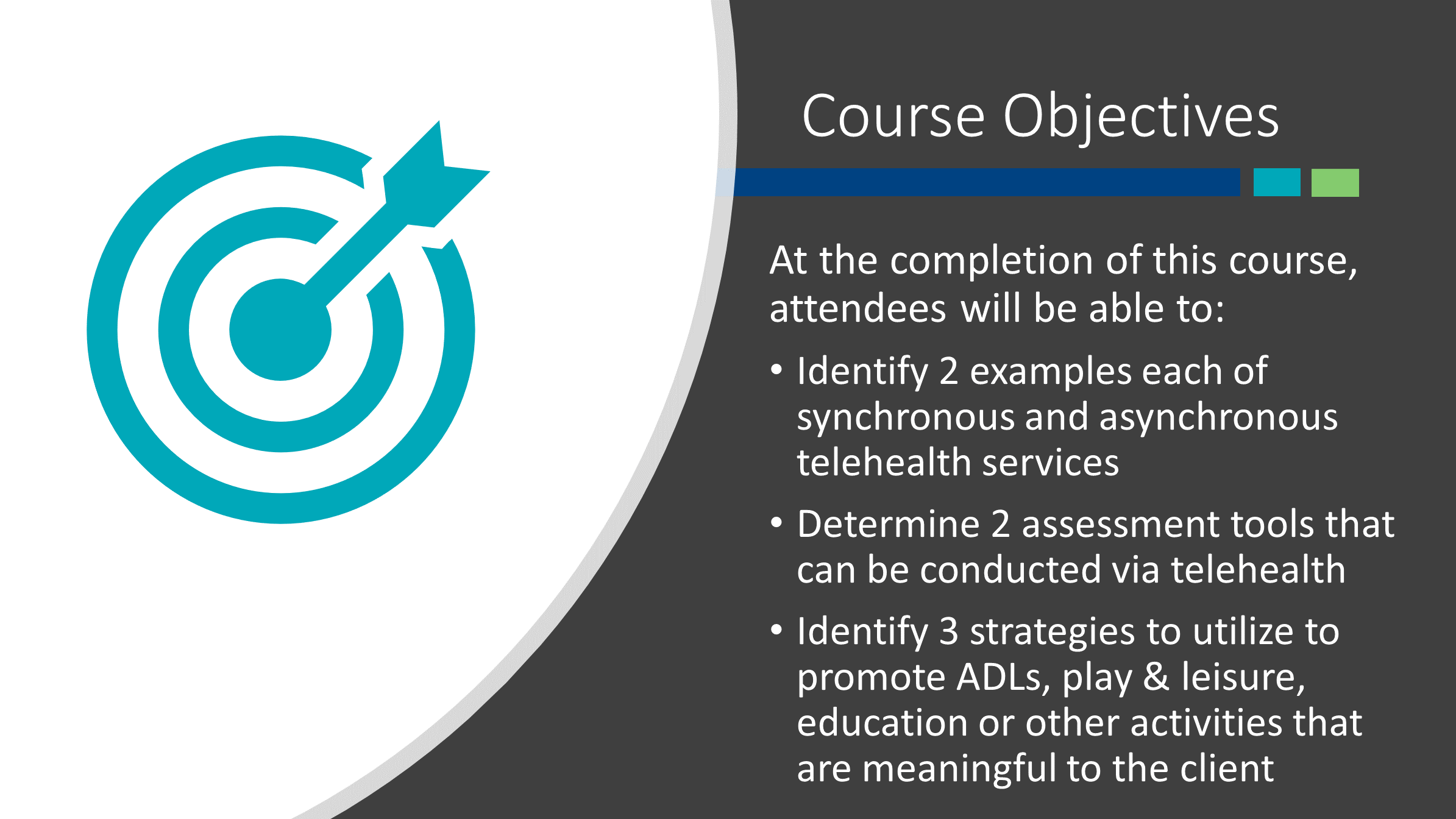 "Helped answer lingering questions about defining "direct" care using telehealth. Decision tree very helpful."
- PT with 17 years of experience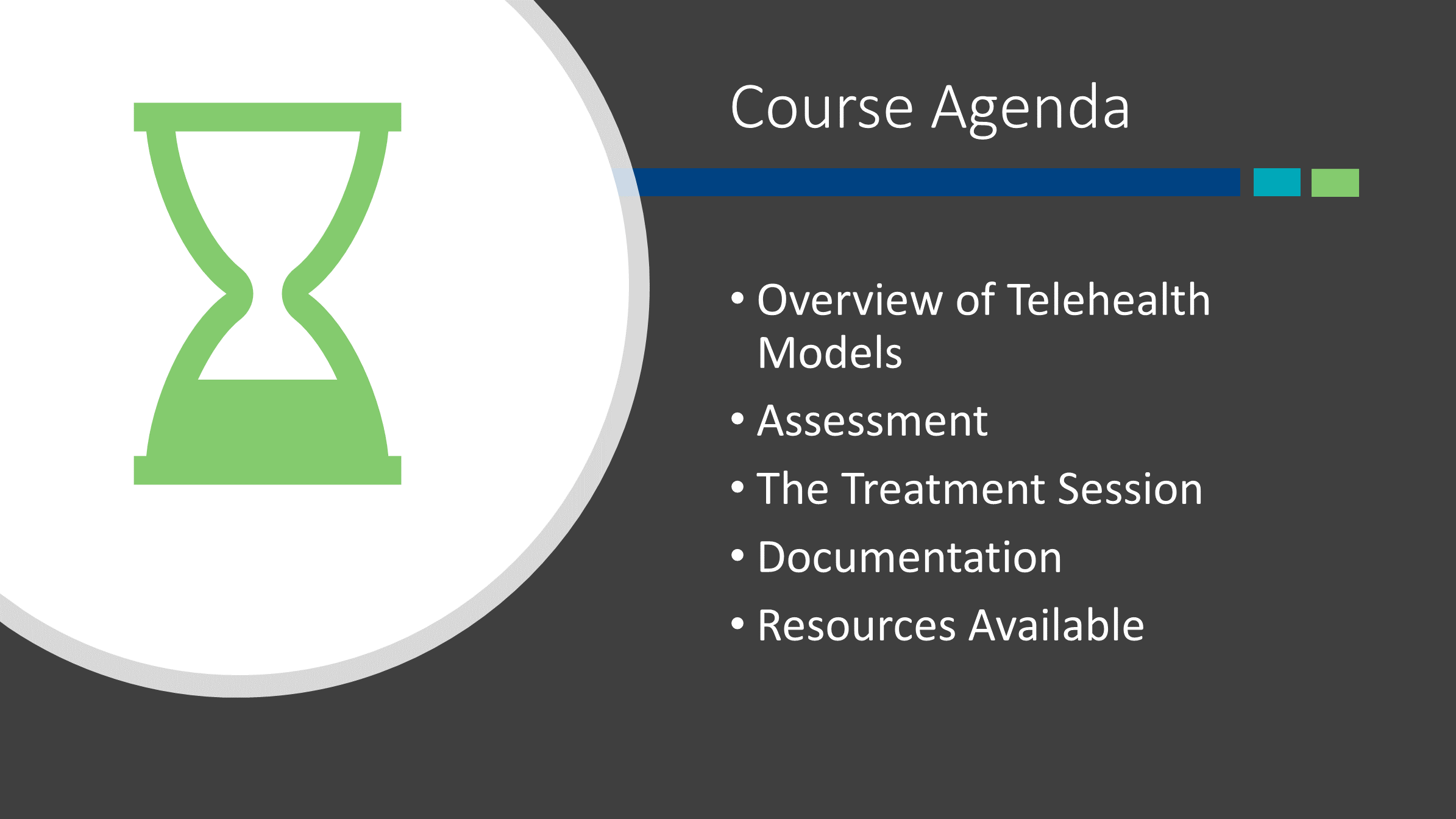 "Another very helpful, sound, practical course with ideas and resources I will use tomorrow. Nice video examples too." 
- OT with 25 years of experience
INSTRUCTOR: Carly Matichack Stock, PT, DPT has had the pleasure of working in the realm of pediatrics, including school-based, multi-disciplinary clinics, research, outpatient and inpatient rehabilitation settings. She currently practices in the Harford County Public Schools in Bel Air, Maryland. Carly was a faculty mentor in the pediatric residency program at Kennedy Krieger Institute responsible for the school-based and muscular dystrophy components. Carly is passionate about forming meaningful relationships with children and families she serves and offering creative evidence-informed therapy services.
AUDIENCE: OTs, PTs, OTAs, PTAs, SLPs and Educators
EDUCATIONAL LEVEL: Intermediate
COURSE OBJECTIVES
At the completion of the course, the learner is expected to:
Identify 2 examples each of synchronous and asynchronous telehealth services
Determine 2 assessment tools that can be conducted via telehealth
Identify 3 strategies to utilize to promote ADLs, play & leisure, education or other activities that are meaningful to the client
AGENDA
Overview of Telehealth Models
Assessment
The Treatment Session
Documentation
Post-test: 10-item multiple choice. 70% correct answers required to receive a certificate
CEU
1.5 continuing education hours of training are awarded to learners who complete this course.
Apply EBP, LLC is an approved provider of CEUs for PTs and PTAs in IL, NY; and for OTs and OTAs in IN, IL, NY, and AOTA (see imprimatur below for details).
This course is approved for for PTs and PTAs in AR, CA, OH (OPTA approval #20S2035) and TX

(approval#

74179TX

).

These OT state boards accept approval by AOTA, other state boards or associations: AL, AK, AR, DE, DC, FL, IL, IN, KY, LA, MD, MI, MN, MS, MO, MT, NV, NH, NM, NC, ND, OH, OR, OK, PA, RI, SC, SD, TN, TX, VT, VA, WI and DC.
These PT state boards accept approval by other states boards, other state associations, or AOTA: AK, AZ, DE, FL, HI, IN, KY, MI, MT, NC, ND, OR, PA, RI, SD, TN, UT, VT, VA, WI, WY and DC.
These states do not require pre-approval of courses or have no CE requirements for OTs and OTAs: AZ, CA, CO, CT, GA, HI, ID, IA, KS, ME, MA, NE, NJ, UT, WA, WV and WY.
These states do not require pre-approval of courses or have no CE requirements for PTs and PTAs: AL, CO, CT, GA, IA, KS, ME, MA, MO, NE, NH, and WA.
If you would like to obtain CEUs for another state, please email us.
Learners must watch the video and complete course requirements, including scoring 70% or higher in the post-test to receive a certificate. Five (5) post-test retakes are allowed; if you exceed this limit, please email us.
POLICIES
You will have access to this course for at least 60 days.
There is no cancellation once course is purchased. Please email us if you have any questions.

Apply EBP, LLC abide by all provisions of the Americans with Disabilities Act (ADA). Apply EBP, LLC is committed to equal educational access for individuals with disabilities. Apply EBP, LLC does not discriminate against any individuals with disabilities from registering or attending any of our courses. We work closely with venues to ensure that facilities utilized are accessible. Individuals with disabilities are encouraged to contact us via

email

or phone (646-269-9039) with requests for accommodations. Apply EBP, LLC will make every effort to provide reasonable accommodations.