Tests and Measures 1
This course will bridge the gap between tests and measures and their applicability in pediatric practice in school, at home and clinic. The speaker will present pediatric tests of mobility, balance and endurance which are functional, require minimal materials, and can mostly be completed in 15 minutes or less. A variety of tests will be discussed, covering a wide range of motor disabilities, from mild to severe. The most current literature will be presented to ensure reliable administration of these tests, provide statistical norms or small-group averages, and guide interpretation of test results.  
Closed Captioned in English!
BONUS PRACTICAL TOOLKIT: Resource - Links to Assessment Tools, and Norms Where Available
TESTIMONIALS
What therapists say about this course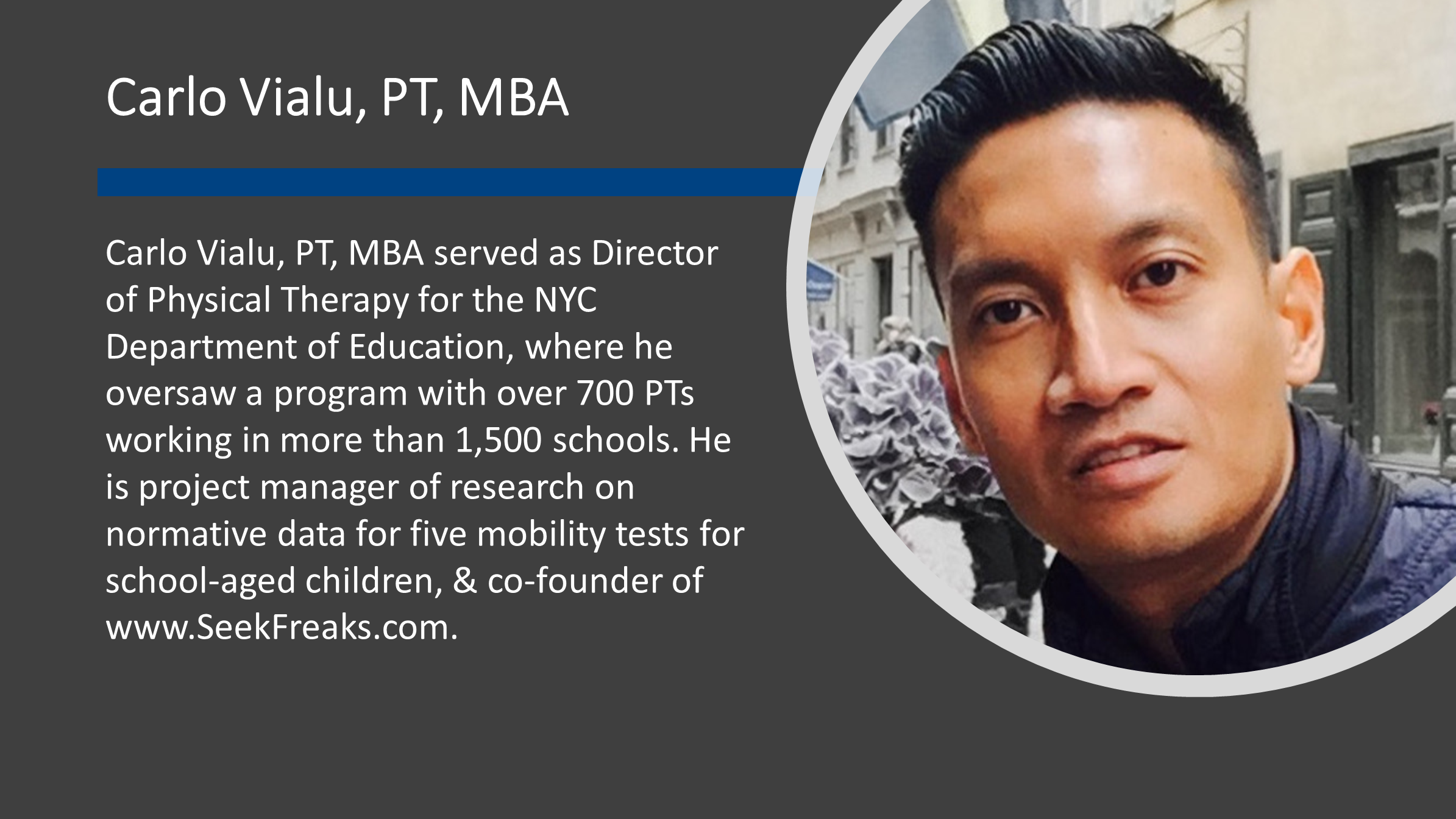 This is my second course with Mr. Vialu. I am impressed with his depth of knowledge and ability to keep his examples relevant.
- PT with 10 years of experience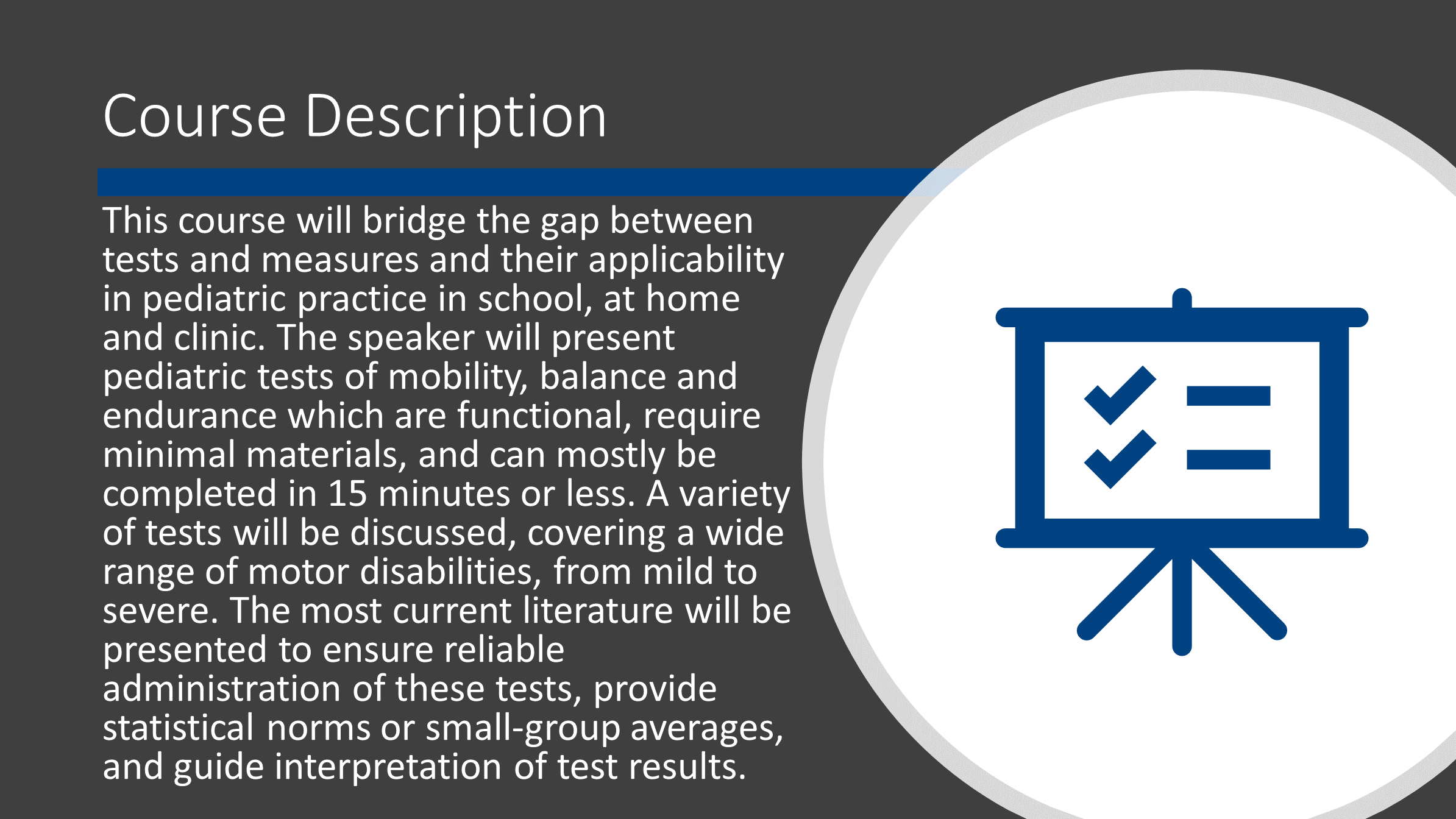 Great course, I learned a lot of new assessments that I will be able to research more and use in practice. Thank you!
- OT with 12 years of experience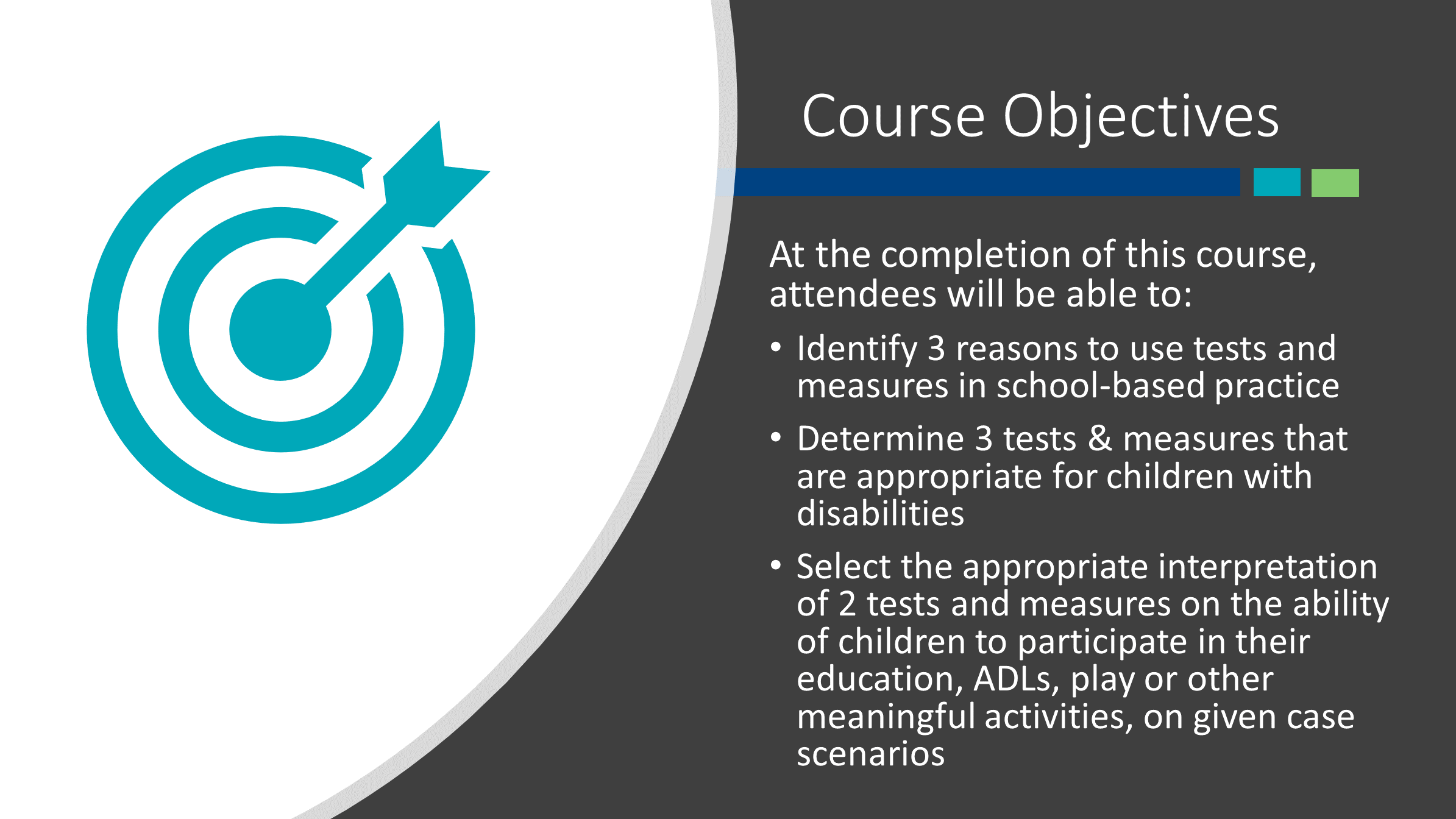 Excellent course to reduce the number of possible assessments to a manageable amount of easy to perform tests.
- PT with 31 years of experience
INSTRUCTOR: Carlo Vialu, PT, MBA served as Director of Physical Therapy for the NYC Department of Education, where he oversaw a program with over 700 PTs working in more than 1,500 schools. He is project manager of research on normative data for five mobility tests for school-aged children, & co-founder of www.SeekFreaks.com.
AUDIENCE: PTs, PTAs or others who would like to learn about these tests and measures
EDUCATIONAL LEVEL: Intermediate
COURSE OBJECTIVES
At the completion of this course, the learner is expected to:
Identify 3 reasons to use tests and measures in school-based practice
Determine 3 tests & measures that are appropriate for children with disabilities
Select the appropriate interpretation of 2 tests and measures on the ability of children to participate in their education, ADLs, play or other meaningful activities, on given case scenarios
AGENDA
Why Use Tests and Measures

Balance, Walking and Wheelchair Operation

Interpretation and Case Studies

Post-test: 10-item multiple choice. 70% correct answers required to receive a certificate
CEU
1.5 continuing education hours of training are awarded to learners who complete this course.
Apply EBP, LLC is an approved provider of CEUs for PTs and PTAs in IL, NY; and for OTs and OTAs in IN, IL and NY.
These OT state boards accept approval by other states: AL, AK, MI, MS, PA, VA and DC.
These PT state boards accept approval by other states boards: AK, AZ, DE, HI, IN, KY, MI, MT, NC, ND, OR, PA, TN, UT, VT, VA, WI, WY and DC.
These states do not require pre-approval of courses or have no CE requirements for OTs and OTAs: AZ, AR, CA, CO, CT, GA, HI, ID, IA, KS, ME, MA, MN, MO, NE, NJ, NV, NH, NC, ND, OH, OR, SC, SD, TN, TX UT, VT, WA, WV, WI and WY.
These states do not require pre-approval of courses or have no CE requirements for PTs and PTAs: AL, CO, CT, GA, IA, KS, ME, MA, MO, NE, NH, and WA.
If you would like to obtain CEUs for another state, please email us.
Learners must watch the video and complete course requirements, including scoring 70% or higher in the post-test to receive a certificate. Five (5) post-test retakes are allowed; if you exceed this limit, please email us.
POLICIES
You will have access to this course for at least 60 days.
There is no cancellation once course is purchased. Please email us if you have any questions.

Apply EBP, LLC abide by all provisions of the Americans with Disabilities Act (ADA). Apply EBP, LLC is committed to equal educational access for individuals with disabilities. Apply EBP, LLC does not discriminate against any individuals with disabilities from registering or attending any of our courses. We work closely with venues to ensure that facilities utilized are accessible. Individuals with disabilities are encouraged to contact us via

email

or phone (646-269-9039) with requests for accommodations. Apply EBP, LLC will make every effort to provide reasonable accommodations.
Other Apply EBP Courses for You