Video Modeling
Nuts and Bolts of Creating and Utilizing Videos in Your Interventions 
Want another tool in your toolbox that is proven to work? Join Erika as she talks about the use of video modeling to help the children and youth that you work with achieve meaningful life outcomes in ADL, mobility, social participation, communication, education, play and others. In this webinar, you will learn the science and evidence behind video modeling. Erika will walk you through the use of video modeling, from selecting a skill to target, analyzing task, choosing the type of video modeling to use, how to safely share and playback videos.
Closed Captioned in English!
BONUS: PRACTICAL TOOLKIT - Fillable Worksheet: 7 Steps to Video Modeling; Graphics: Evidence-based Practice
TESTIMONIALS
What therapists say about this course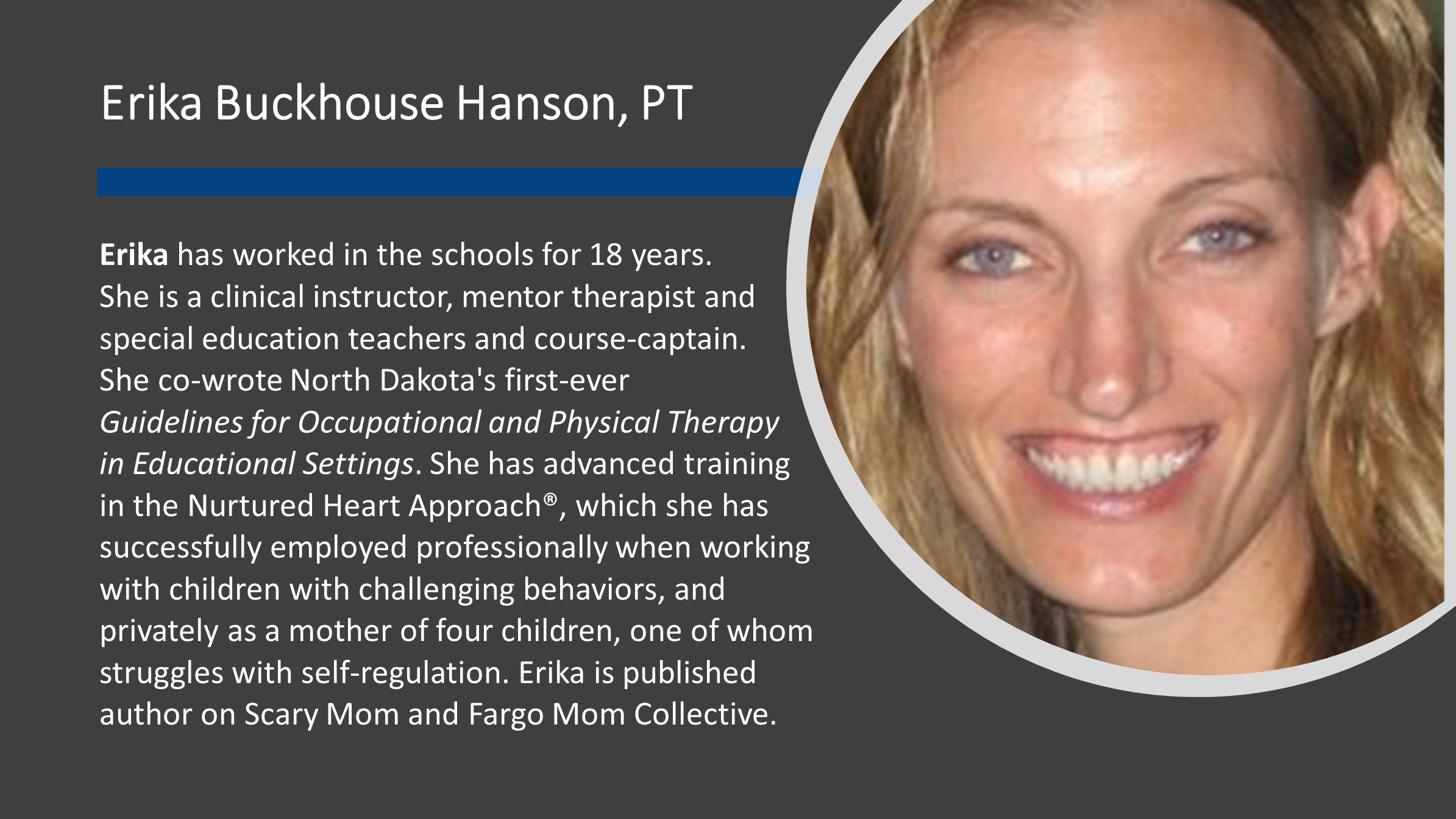 Well presented; helpful information to add a new method of treatment to school based practice with students with autism.
- OT with 20 years of experience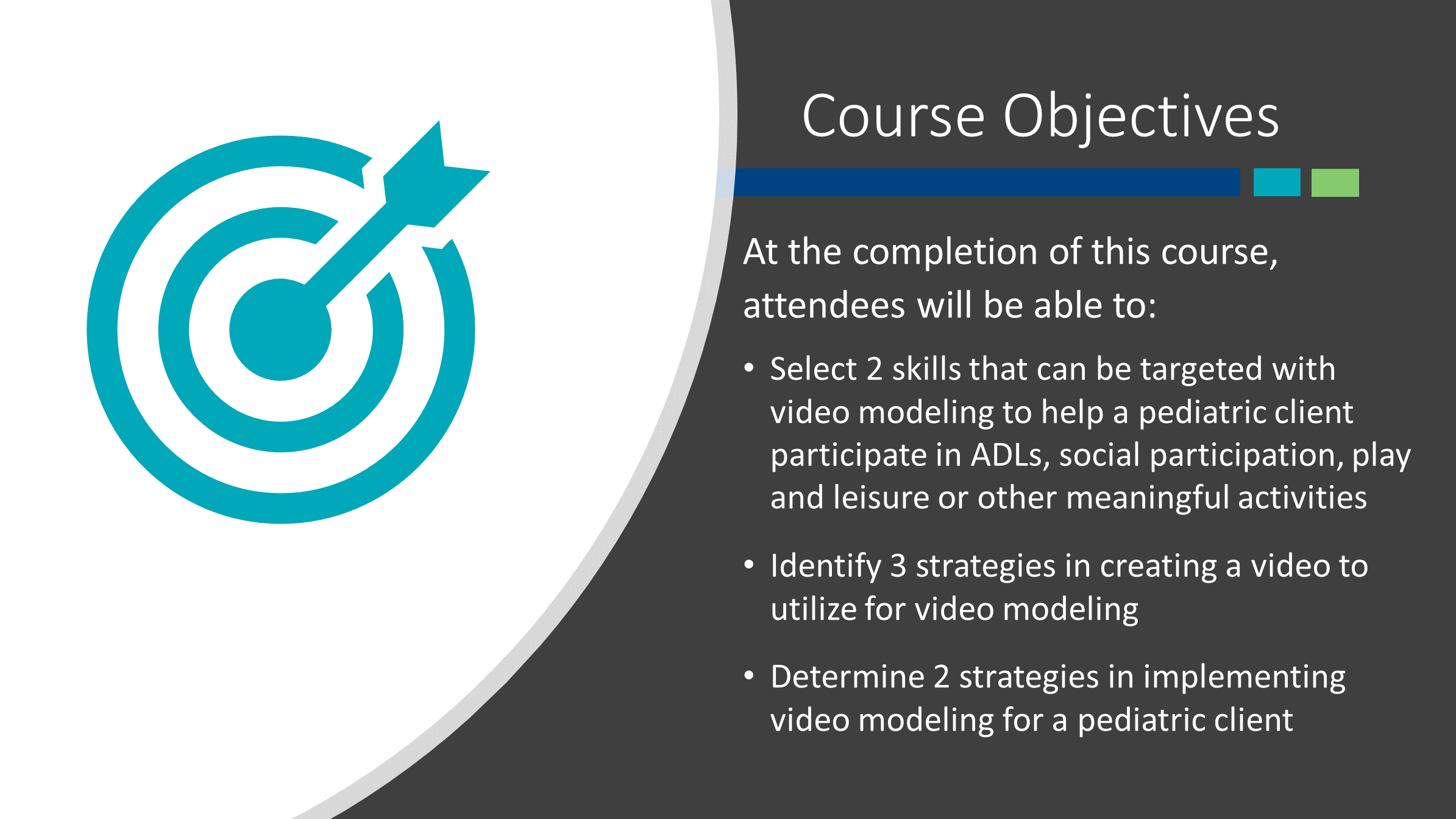 Loved all the video demonstrations and her talking through what is going on and why. Also really like the emphasis on the part about seeing a need and filling it!
- PT with 28 years of experience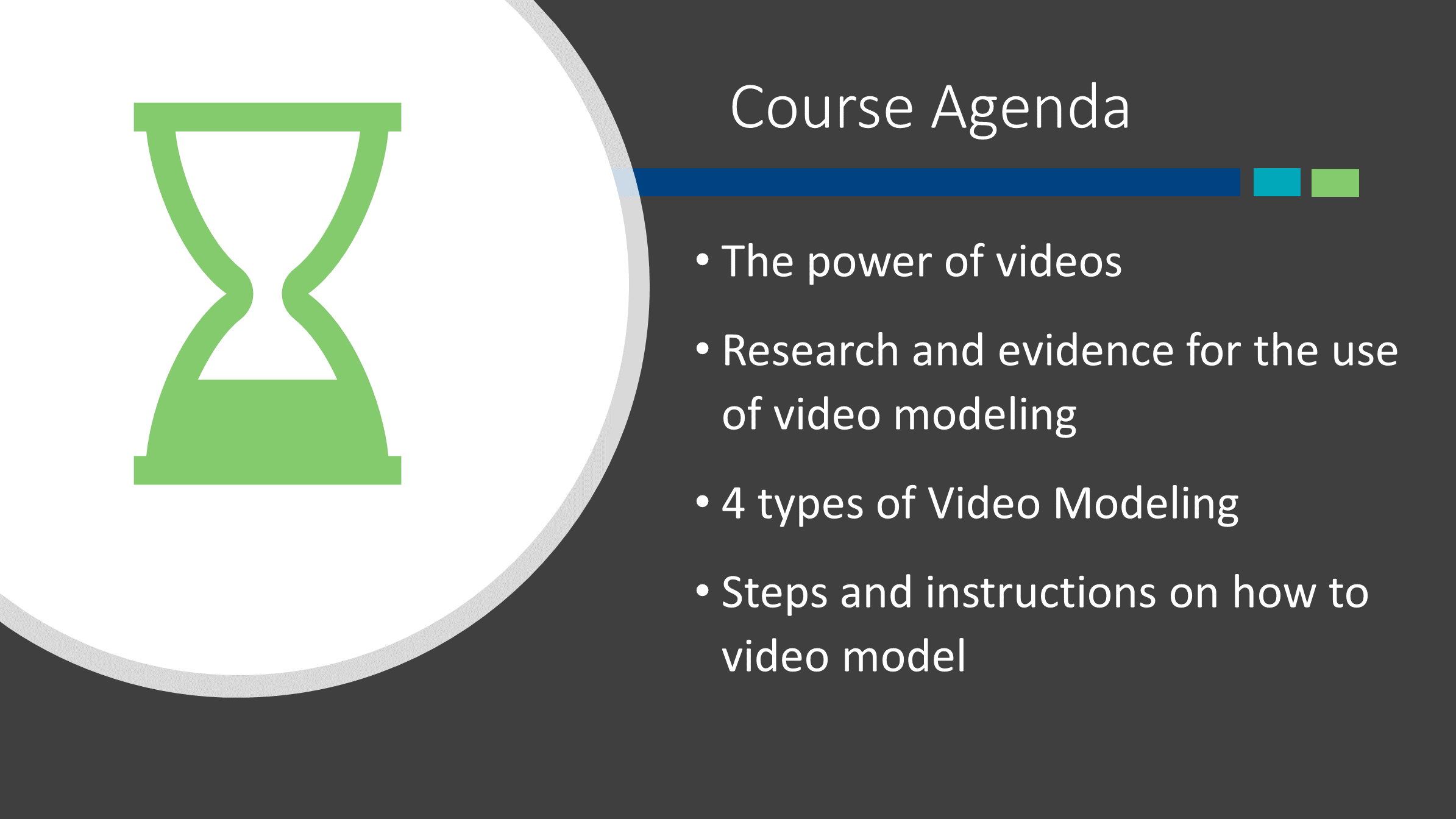 Very applicable to school based therapy - great tool to try!
- PT with 28 years of experience
INSTRUCTOR: Erika Buckhouse Hanson, PT has worked in the schools for 18 years. She is a clinical instructor, mentor therapist and special education teachers and course-captain. She co-wrote North Dakota's first-ever Guidelines for Occupational and Physical Therapy in Educational Settings. She has advanced training in the Nurtured Heart Approach®, which she has successfully employed professionally when working with children with challenging behaviors, and privately as a mother of four children, one of whom struggles with self-regulation. Erika is published author on Scary Mom and Fargo Mom Collective.  
AUDIENCE: OTs, PTs, OTAs, PTAs, SLPs and Educators
EDUCATIONAL LEVEL: Intermediate
COURSE OBJECTIVES
At the completion of the course, the learner is expected to:
Select 2 skills that can be targeted with video modeling to help a pediatric client participate in ADLs, social participation, play and leisure or other meaningful activities 

Identify 3 strategies in creating a video to utilize for video modeling

Determine 2 strategies in implementing video modeling for a pediatric client 
AGENDA
The power of videos
Research and evidence for the use of video modeling
4 types of Video Modeling
Steps and instructions on how to video model 
Post-test: 10-item multiple choice. 70% correct answers required to receive a certificate
CEU
1.5 continuing education hours of training are awarded to learners who complete this course.
Apply EBP, LLC is an approved provider of CEUs for PTs and PTAs in IL, NY and for OTs and OTAs in IN, IL, and AOTA (see imprimatur below for details).
This webinar is approved for PTs and PTAs in AR and CA.
These OT state boards accept approval by AOTA, other state boards or associations: AL, AK, AR, DE, DC, FL, IL, IN, KY, LA, MD, MI, MN, MS, MO, MT, NV, NH, NM, NY, NC, ND, OH, OR, OK, PA, RI, SC, SD, TN, TX, VT, VA, and WI.
These PT state boards accept approval by other states boards or AOTA: AK, AZ, DE, HI, IN, KY, MI, MT, NC, ND, OR, PA, RI, TN, UT, VT, VA, WI, WY and DC.
These states do not require pre-approval of courses or have no CE requirements for OTs and OTAs: AZ, CA, CO, CT, GA, HI, ID, IA, KS, ME, MA, NE, NJ, UT, WA, WV and WY.
These states do not require pre-approval of courses or have no CE requirements for PTs and PTAs: AL, CO, CT, GA, IA, KS, ME, MA, MO, NE, NH, and WA.
If you would like to obtain CEUs for another state, please email us.
Learners must watch the video and complete course requirements, including scoring 70% or higher in the post-test to receive a certificate. Five (5) post-test retakes are allowed; if you exceed this limit, please email us.
POLICIES
You will have access to this course for at least 60 days.
There is no cancellation once course is purchased. Please email us if you have any questions.

Apply EBP, LLC abide by all provisions of the Americans with Disabilities Act (ADA). Apply EBP, LLC is committed to equal educational access for individuals with disabilities. Apply EBP, LLC does not discriminate against any individuals with disabilities from registering or attending any of our courses. We work closely with venues to ensure that facilities utilized are accessible. Individuals with disabilities are encouraged to contact us via

email

or phone (646-269-9039) with requests for accommodations. Apply EBP, LLC will make every effort to provide reasonable accommodations.