How Do I Fit in School-Based Services? - Short Course
How does a therapist from a healthcare background fit into special education services in schools under the Individuals with Disabilities Education Act? This webinar will explore the law and current evidence to apply an OT, PT, SLP or other professional's expertise in the school setting. Jen will use a case study to walk the learners through the eligibility determination process, influencing least restrictive environment, and optimizing function for a child with a disability in school.
TESTIMONIALS
What therapists say about Jen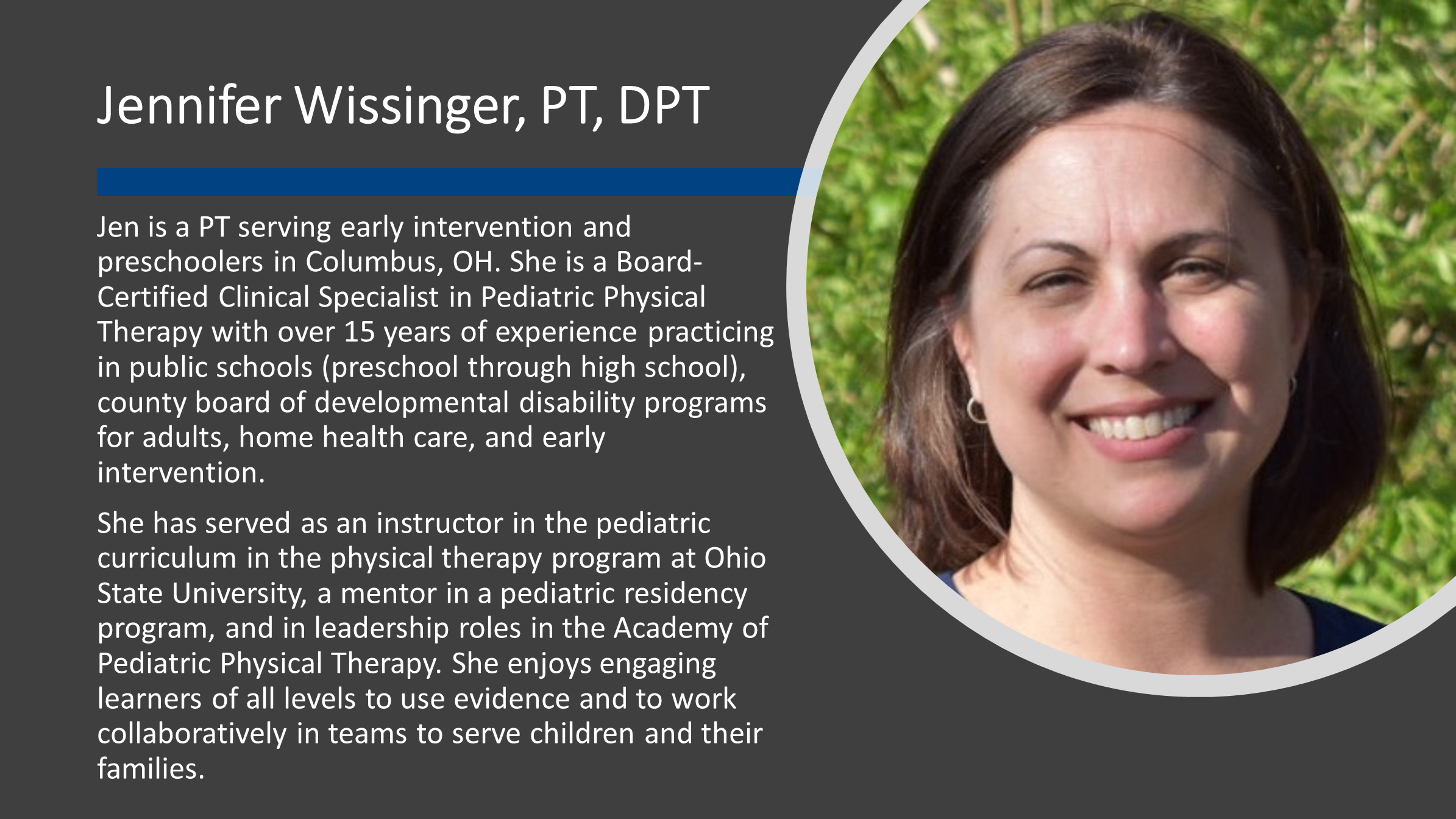 Jen is sincere in sharing her experience and finding solution to audience's concern.
- PT with more than 10 years experience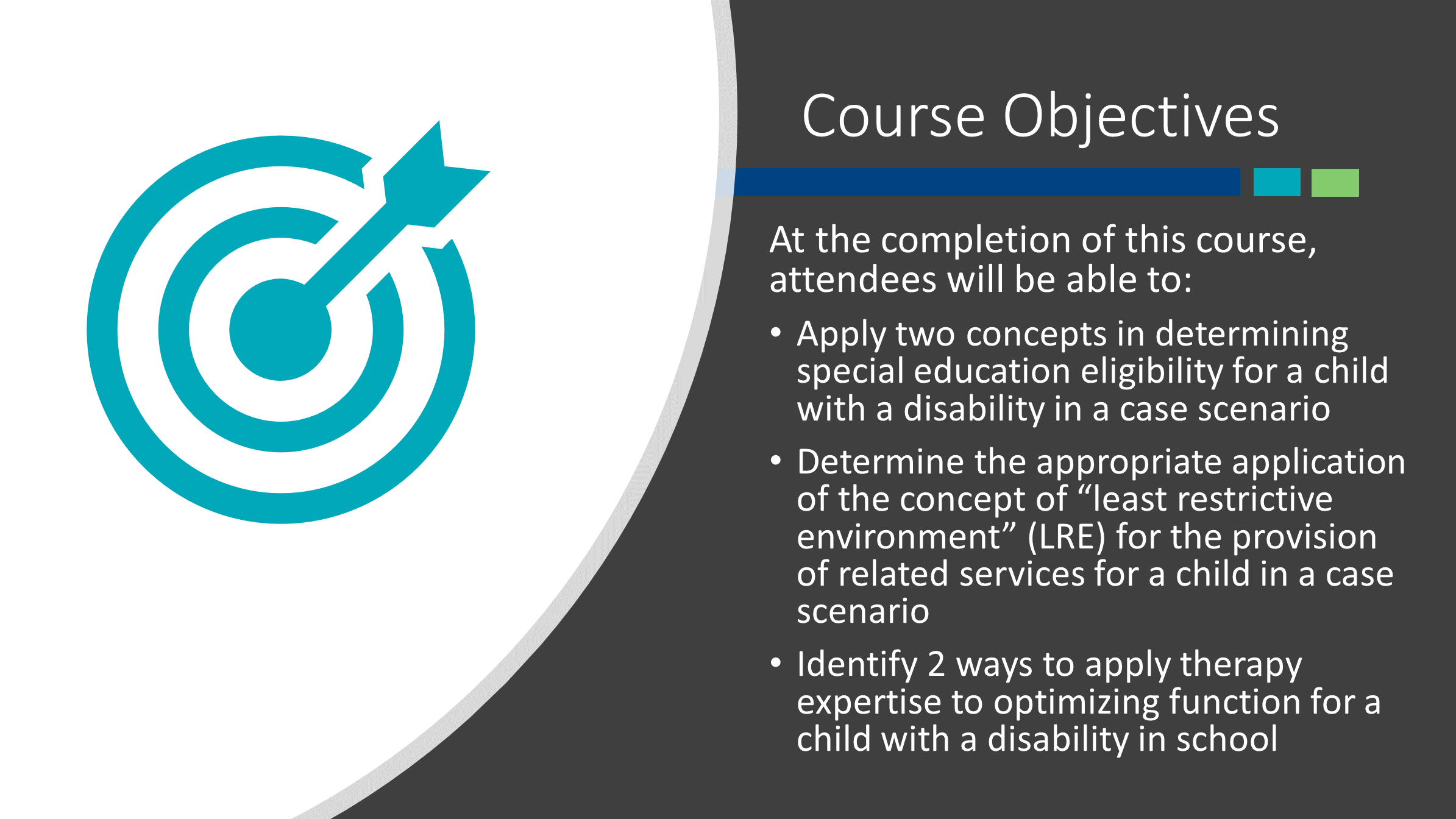 Excellent information on school based practice. This course provided the background of IDEA and expectations for therapists to allow me to communicate student needs more effectively in the educational setting.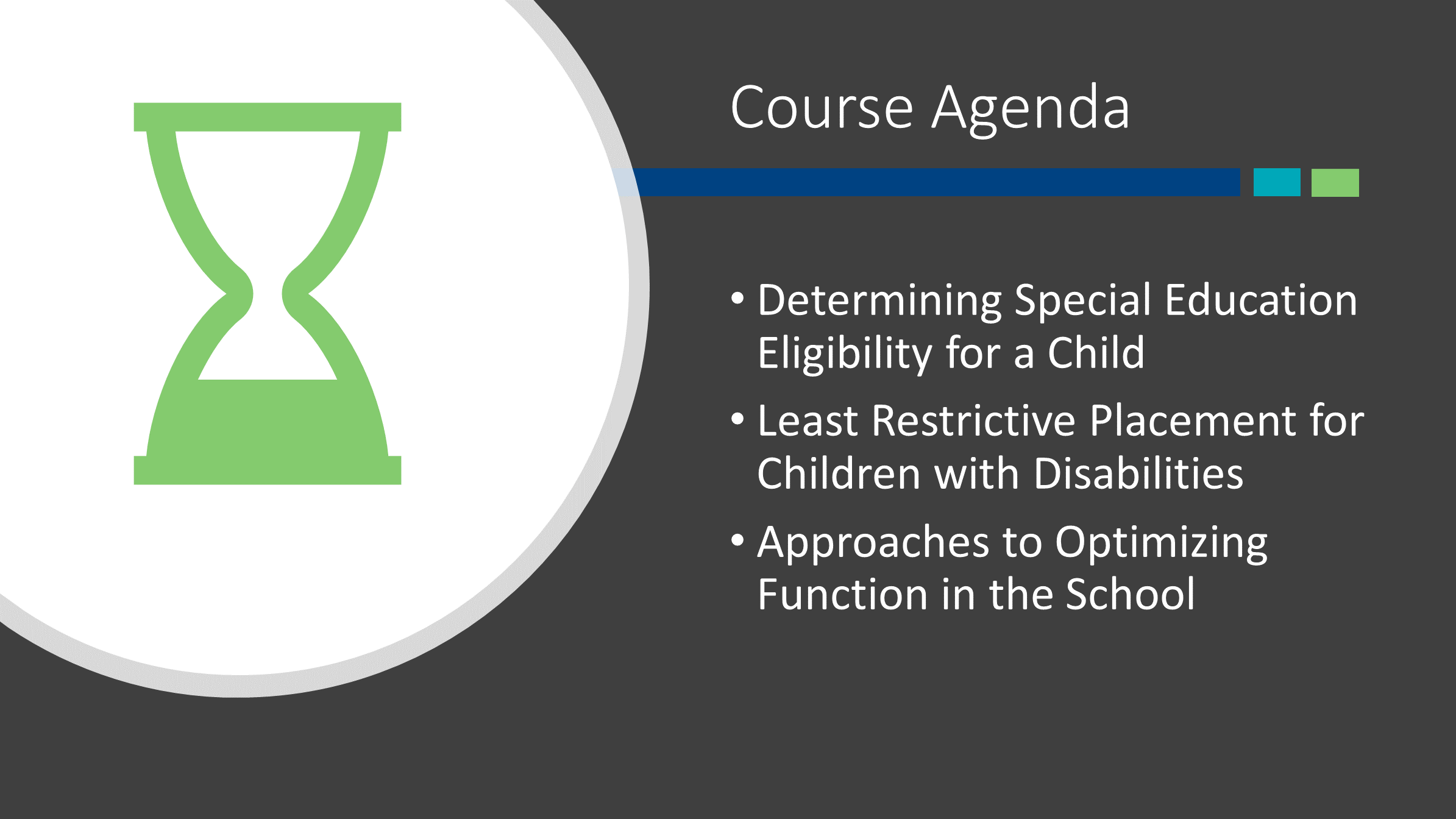 Great course! This would be a great school district employment video for therapists starting in school based settings. 
- PT with 25 years experience
INSTRUCTOR: Jennifer Wissinger, PT, DPT serves early intervention and preschool children in Columbus, OH. She is a Board-Certified Clinical Specialist in Pediatric Physical Therapy with over 15 years of experience practicing in public schools (preschool through high school), county board of developmental disability programs for adults, home health care, and early intervention. She has served as an instructor in the pediatric curriculum in the physical therapy program at Ohio State University, a mentor in a pediatric residency program, and in leadership roles in the Academy of Pediatric Physical Therapy. She enjoys engaging learners of all levels to use evidence and to work collaboratively in teams to serve children and their families.
AUDIENCE: OTs, PTs, OTAs, PTAs, SLPs and Educators
EDUCATIONAL LEVEL: Beginner/Introductory
COURSE OBJECTIVES
At the completion of the course, the learner is expected to:
Apply two concepts in determining special education eligibility for a child with a disability in a case scenario
Determine the appropriate application of the concept of "least restrictive environment" (LRE) for the provision of related services for a child in a case scenario
Identify 2 ways to apply therapy expertise to optimizing function for a child with a disability in school
AGENDA
Determining Special Education Eligibility for a Child
Least Restrictive Placement for Children with Disabilities
Approaches to Optimizing Function in the School
Post-test: 10-item multiple choice. 70% correct answers required to receive a certificate
CEU
1.5 continuing education hours of training are awarded to learners who complete this course.
Apply EBP, LLC is an approved provider of CEUs for PTs and PTAs in IL, NY; and for OTs and OTAs in IN, IL, NY, and AOTA (see imprimatur below for details).
This course has been approved for PTs and PTAs in AR and CA..
These OT state boards accept approval by AOTA, other state boards or associations: AL, AK, AR, DE, DC, FL, IL, IN, KY, LA, MD, MI, MN, MS, MO, MT, NV, NH, NM, NC, ND, OH, OR, OK, PA, RI, SC, SD, TN, TX, VT, VA, WI and DC.
These PT state boards accept approval by other states boards or AOTA: AK, AZ, DE, HI, IN, KY, MI, MT, NC, ND, OR, PA, RI, TN, UT, VT, VA, WI, WY and DC.
These states do not require pre-approval of courses or have no CE requirements for OTs and OTAs: AZ, CA, CO, CT, GA, HI, ID, IA, KS, ME, MA, NE, NJ, UT, WA, WV and WY.
These states do not require pre-approval of courses or have no CE requirements for PTs and PTAs: AL, CO, CT, GA, IA, KS, ME, MA, MO, NE, NH, and WA.
If you would like to obtain CEUs for another state, please email us.
Learners must watch the video and complete course requirements, including scoring 70% or higher in the post-test to receive a certificate. Five (5) post-test retakes are allowed; if you exceed this limit, please email us.
COURSE RECOMMENDATIONS: Expand your knowledge of school-based decision-making with these courses:
POLICIES
You will have access to this course for at least 60 days.
There is no cancellation once course is purchased. Please email us if you have any questions.

Apply EBP, LLC abide by all provisions of the Americans with Disabilities Act (ADA). Apply EBP, LLC is committed to equal educational access for individuals with disabilities. Apply EBP, LLC does not discriminate against any individuals with disabilities from registering or attending any of our courses. We work closely with venues to ensure that facilities utilized are accessible. Individuals with disabilities are encouraged to contact us via

email

or phone (646-269-9039) with requests for accommodations. Apply EBP, LLC will make every effort to provide reasonable accommodations.